Roasted Squash and Pepper Tart Recipe
Fast & Easy Dinner: Roasted Squash and Pepper Tart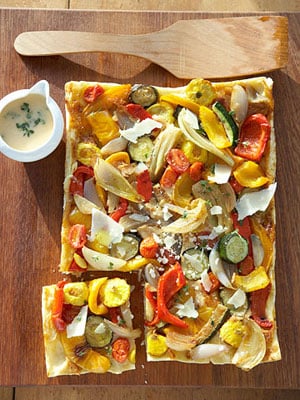 Tiring of the Fall soup-and-stew rotation already? Turn to a meal that's worthy of your attention and excitement, especially since it's ideal for everything from an impromptu get-together to a casual night in.
Roast red and yellow peppers, fennel, and Winter or Summer squash of your liking with herbs until fork-tender, then transform them into the center of attention by giving them a balsamic-and-vinegar treatment and a puffy crust.
The final product is cheaper than a galette you'd pick up from a comparable French bakery. For the recipe, read more.


Roasted Squash and Pepper Tart
Ingredients
3 cups cut-up squash, such as pattypan, yellow Summer squash, or zucchini
2 red and/or yellow sweet peppers, cut into wide strips
1 large sweet onion and/or fennel bulb, cut into wedges
2 Tbsp. olive oil
Salt or salt and freshly ground black pepper
2 oz. parmesan cheese
1/2 of a 17.3-oz. pkg. frozen puff pastry sheet (1 sheet), thawed
1/2 cup halved cherry tomatoes
2 Tbsp. balsamic vinegar
1 Tbsp. snipped fresh thyme
1 cup purchased refrigerated creamy parmesan dressing
1/4 cup finely chopped sweet onion
Directions
Preheat oven to 450 degrees F. Coat sides and bottom of 13-by-9-by-2-inch baking pan with nonstick cooking spray. Spread squash, sweet peppers, and onion wedges in pan. Toss with olive oil; sprinkle with salt and pepper. Roast, uncovered, 20 to 25 minutes or until tender, stirring once.
Meanwhile, using a vegetable peeler, cut parmesan cheese in thin strips. Set aside. On lightly floured surface, roll puff pastry to 13-by-9-inch rectangle. Remove baking pan from oven. Add tomatoes to pan. Toss vegetables with balsamic vinegar and half the parmesan cheese. Spread vegetables evenly in pan. Lay pastry over vegetables, tucking in edges. Return pan to oven; bake for 15 minutes or until pastry is puffed and golden.
Remove pan from oven; cool 5 minutes. Invert a 15-by-10-by-1-inch baking pan over pan with pastry. Carefully invert pans together; remove 13-by-9-inch pan. Transfer any vegetables that stick to finished tart. Sprinkle tart evenly with remaining cheese and 2 teaspoons of the thyme. In small bowl stir together dressing, chopped onion, and remaining 1 teaspoon thyme. Cut in squares. Serve tart warm or at room temperature with dressing.
Serves 4.
Information
Category

Main Dishes, Pizza

Cuisine

North American