Roasted Stuffed Lamb with Swiss Chard
Stuffed Chard Lamb is Delicious for Dinner Whenever I take a trip to the store, a couple of items that aren't on my grocery list make their way into my cart. When I spotted a California-raised lamb shoulder at the meat counter, I couldn't stop myself from sliding it into the shopping cart.
I was eager to experiment with lamb because of a recent disappointing experience with imported Australian lamb. Ironically, I found an Australian recipe that I decided to try. If I made it with a local piece of meat, the dish might taste better.
And taste better it did! The lamb is filled with a rich stuffing of eggplant, onions, bell pepper, wine-soaked dried currants, and toasted pine nuts. The bold flavor of the lamb balances out the sweetness of the stuffing and the bitterness of the chard resulting in a dish that is succulent and scrumptious. To try this rewarding lamb dish,
.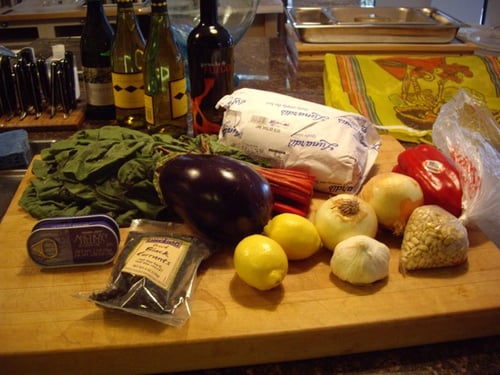 Roasted Stuffed Lamb With Swiss Chard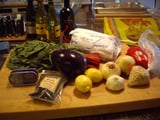 Ingredients
Currant and pine nut stuffing
1/3 cup dried currants
1/3 cup Merlot
1 tbsp extra-virgin olive oil
1 small onion, coarsely chopped
1 clove garlic, thinly sliced
4 anchovies, finely chopped
1/4 cup toasted pine nuts
1 small eggplant, peeled and chopped
1 red bell pepper
2 tsp brown sugar, or to taste
1 tsp fresh or 2 tsp dried Greek oregano
1 lemon, finely grated rind only
For the lamb:
1 1/2 pounds boneless lamb shoulder, butterflied
1/4 cup extra-virgin olive oil
2 cloves garlic, thinly sliced
1 bunch Swiss Chard
1/2 tsp nutmeg, or to taste
1 tsp fresh Greek Oregano
1/2 cup Merlot wine
Directions
For stuffing, combine currants and wine in a bowl.
Chop eggplant, garlic, onions and red bell pepper.
Heat oil in a large frying pan, add onion, garlic, anchovy, and nuts and sauté for 5 minutes over medium heat or until soft and nuts start to brown. Add eggplant and bell pepper, cover and cook, stirring occasionally, for 10 minutes or until soft.
Season to taste with sugar, sea salt, and freshly ground black pepper. Add, wine-soaked currants, oregano and lemon rind and cook for another 10 minutes or until liquid is absorbed. Cool.
Preheat oven to 390°F. Place lamb skin-side down on a bench, spread over stuffing, roll up tightly, rather than use twine to secure the lamb, I used these stretch hot cooking bands! Combine 2 teaspoons of olive oil, salt, nutmeg, Greek oregano season to taste and rub over lamb. Place lamb in the baking dish and pour 1/2 cup merlot in the bottom of the pan.
Roast for 20 minutes, then reduce heat to 375°F and roast for 1 hour for medium. Cover with foil and rest for 10 minutes.
Heat remaining oil in a large frying pan over medium heat, add garlic and cook for 1 minute or until golden. Add chard and cook for 5 minutes or until tender, then add leaves and cook for another 5 minutes or until wilted. Slice lamb thinly and serve on a bed of chard topped with any extra stuffing.
Serves 6.
Information
Category

Main Dishes, Lamb

Cuisine

Other