Roasted Tomato Basil Soup Is Superbly Comforting
Last Sunday I caught a Barefoot Contessa marathon on Food Network where one recipe stood out in my mind. So much that I went straight to the store to purchase the ingredients and made it that evening for dinner. The recipe was for roasted tomato soup with fresh basil. Although neither element is in season, the soup looked soothing, scrumptious, and hearty. It was featured on an episode devoted to healthier, feel-good food, so I didn't worry about serving myself an extra-large helping — it's that good! Unlike other roasted tomato soups, Ina's rendition is rich and flavorful without the addition of cream. The red pepper flakes provide a lovely heat. For the ultimate comfort meal, serve with a grilled cheese sandwich or homemade croutons. Want the recipe? All you have to do is
.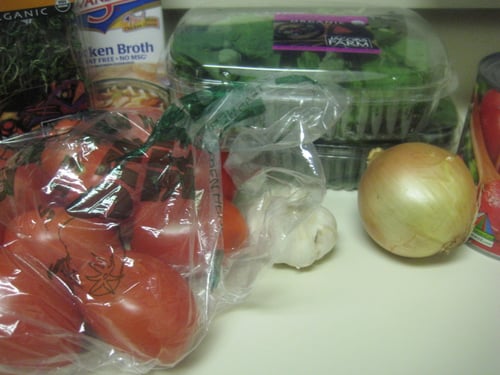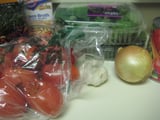 Ingredients
3 pounds ripe plum tomatoes, cut in half
1/4 cup plus 2 tablespoons good olive oil
1 tablespoon kosher salt
1 1/2 teaspoons freshly ground black pepper
2 cups chopped yellow onions (2 onions)
6 garlic cloves, minced
2 tablespoons unsalted butter
1/4 teaspoon crushed red pepper flakes
1 (28-ounce) canned plum tomatoes, with their juice
4 cups fresh basil leaves, packed
1 teaspoon fresh thyme leaves
1 quart chicken stock or water
Directions
Preheat the oven to 400°F.
Toss together the tomatoes, 1/4 cup olive oil, salt, and pepper. Spread the tomatoes in 1 layer on a baking sheet and roast for 45 minutes.

In an 8-quart stockpot over medium heat, saute the onions and garlic with 2 tablespoons of olive oil, the butter, and red pepper flakes for 10 minutes, until the onions start to brown.

Add the canned tomatoes, basil, thyme, and chicken stock.
Add the oven-roasted tomatoes, including the liquid on the baking sheet.

Bring to a boil and simmer uncovered for 40 minutes.

Pass through a food mill* fitted with the coarsest blade. Taste for seasonings. Serve hot or cold.
Serves 8.
*I do not own a food mill and pureed my soup successfully with an immersion blender.
Information
Category

Soups/Stews, Bisque