Rose Cake
3 Layers of Decadence: Chamomile-Rose Pudding Cake With Meringue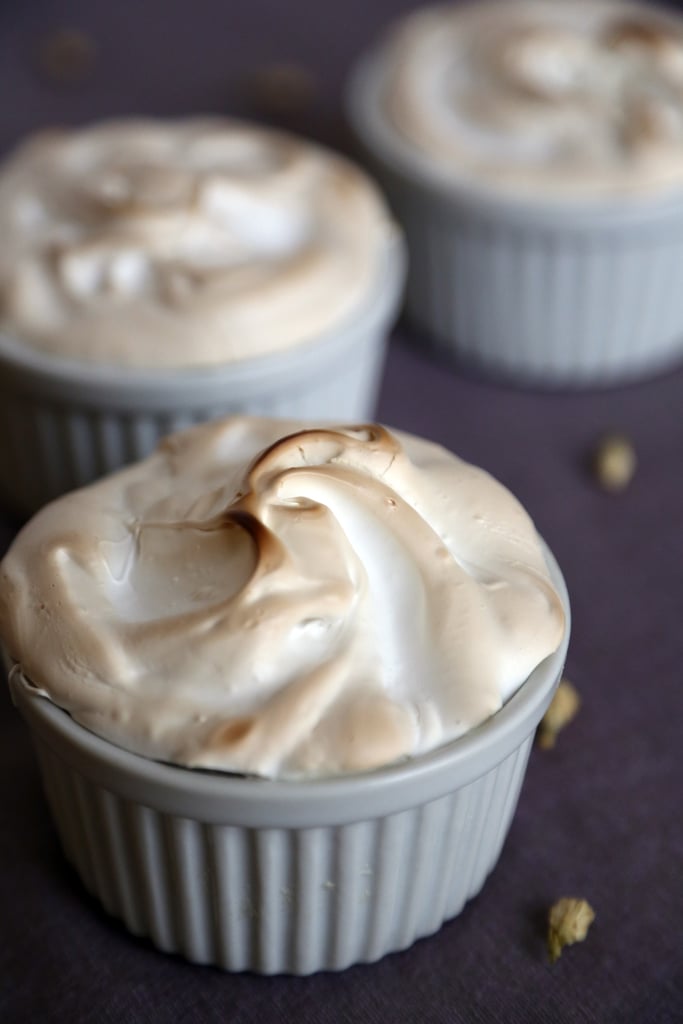 Valentine's Day involves going all out to show your loved one you care, and this floral pudding cake with fluffy meringue surely does just that. It's a mouthful that's as delicious as it sounds.

The recipe holds true to the original, from an enchanting cookbook called Vintage Cakes, but I changed up the flavor profile quite a bit so that these pudding cakes taste of chamomile and rose (instead of lemon). If you have access to edible roses, sprinkle the petals throughout the cake. Otherwise, the rose water will be strong enough to express that floral flavor.

If you've never made a pudding cake before, here's the deal. There's only one cake batter involved, so you don't need to make both a pudding and a cake. When the batter bakes in the ramekin, half of it rises to the surface to form a cake, while the bottom half remains viscous and pudding-like.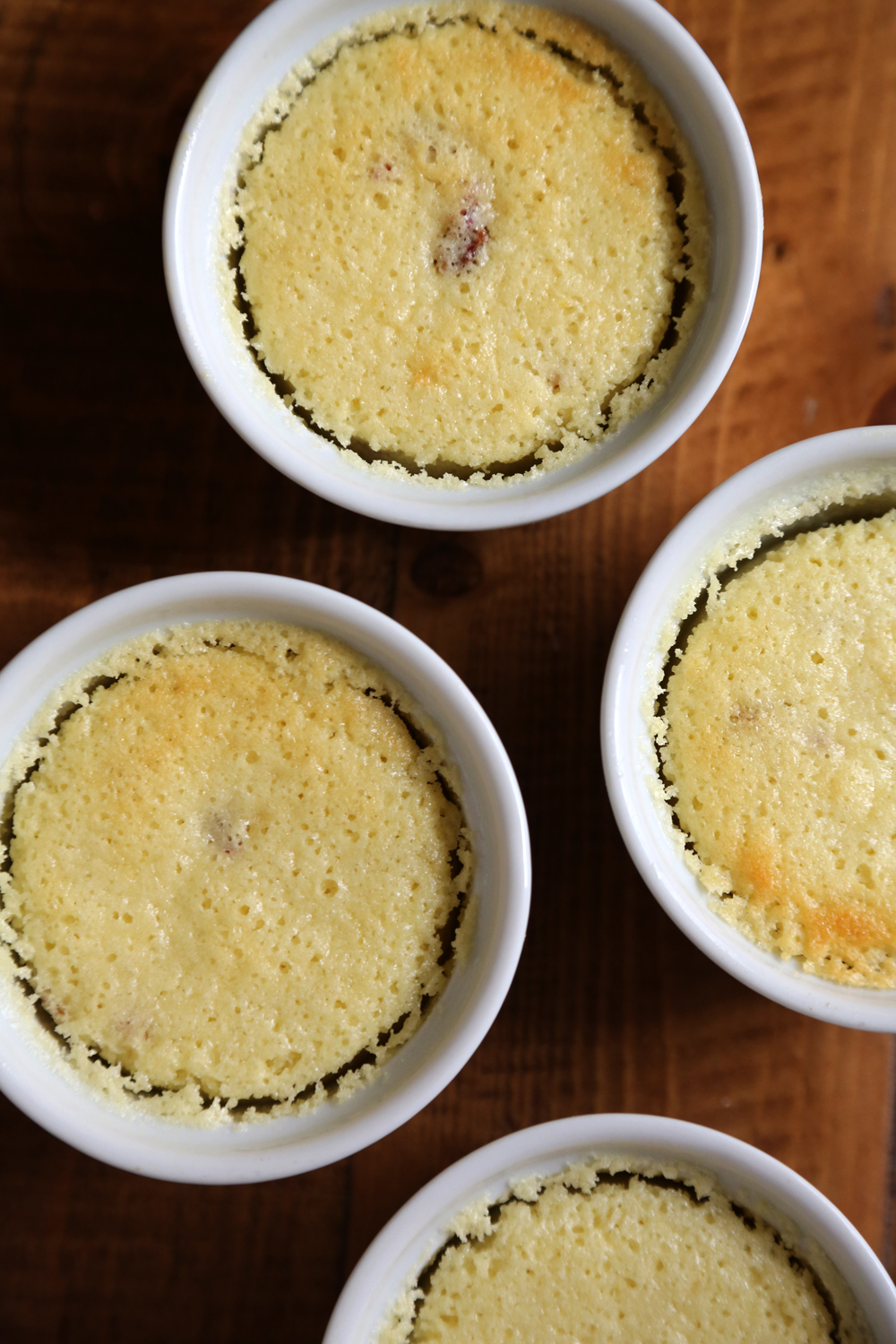 But this is no ordinary pudding cake — it's topped with marshmallow-y meringue, which is lightly toasted in the broiler. The meringue is so pillowy, sweet, and addictive that you should just plan on scraping the bowl clean.

Once the cakes emerge from the oven, it's extremely fun to crack them open and scoop up a bite. Impress your Valentine this year by making this three-tiered treat.
Chamomile-Rose Pudding Cakes
Adapted from "Lemon Queen Cakes" in Vintage Cakes by Julie Richardson
Ingredients
For cake:
1/2 cup plus 2 tablespoons whole milk
2 chamomile tea bags
2 tablespoons (1 ounce) butter, room temperature, plus more for greasing ramekins
1/2 cup plus 2 tablespoons plus 2 teaspoons superfine sugar
2 eggs, yolks and whites separated
2 tablespoons lemon juice
2 tablespoons rose water
1/4 cup plus 2 tablespoons (1.875 ounces) all-purpose flour, sifted
1/8 teaspoon fine salt
1 tablespoon edible rose petals (optional)
For meringue:
2 egg whites
1/2 cup superfine sugar
Pinch of salt
Directions
In a small saucepan, heat milk and chamomile over low heat. When small bubbles begin to form, remove milk from heat and set aside to cool (with chamomile bags still in liquid). Butter ramekins and place in a roasting pan. Center an oven rack and preheat oven to 350°F.
In bowl of a stand mixer fitted with paddle attachment, beat the 2 tablespoons butter and all of the sugar on medium speed until well combined. Add egg yolks, one at a time, blending on medium-high speed until batter is creamy. Scrape down sides and bottom of bowl as necessary. Stop mixer and use rubber spatula to stir in lemon juice and rose water by hand. Add flour, stirring until well combined. Squeeze excess milk from chamomile tea bags and discard bags, then stir chamomile-infused milk into batter. Batter should look thin.
In a clean bowl, whisk egg whites and salt by hand until medium peaks form. Gently fold egg whites and rose petals (if using) into batter until well combined. Distribute batter among buttered ramekins, filling them to just below rim.
Place roasting pan in oven and carefully pour enough hot water to pan to come to about 1/3 way up sides of ramekins. Bake cakes until tops are firm, appear golden, and begin to crack, about 30 to 32 minutes. Do not use wooden skewer to test doneness, because bottoms of cake will stay a pudding-like consistency. Carefully remove ramekins from pan and place on wire rack to cool.
Once cakes have cooled, prepare meringue topping. Fill saucepan halfway full of water and bring to a boil. In the bowl of a stand mixer, whisk egg whites, sugar, and salt by hand. Place bowl over saucepan with simmering water. Carefully whisk mixture by hand until it reaches 160°F. Remove from heat, dry bottom of bowl with towel, then attach bowl to stand mixer. Using a whisk attachment, whip the egg whites on medium-high speed until they triple in volume, hold stiff peaks, and look thick and glossy. Preheat oven on broil setting.
Quickly and evenly distribute meringue atop cakes, making sure to completely cover tops of cake. Transfer ramekins to baking sheet. Slide tray into middle of oven and check often (every 30 seconds), turning tray as needed to evenly toast meringue tops. Serve immediately (cake will keep at room temperature for 2 days).
Makes 4 ramekins of pudding cake.
Information
Category

Desserts, Cake

Cuisine

North American