Rose Marshmallows
Rose Marshmallows For Your Valentine
Rather than share chocolates and champagne with your significant other or girlfriends on Valentine's Day, pair your bubbly with rose marshmallows instead. Making these fluffy, pillowy marshmallows can be a heart-pounding experiment that requires a little speed, yet the light, melt-in-your-mouth pockets are foolproof if you are prepared and have read the recipe several times.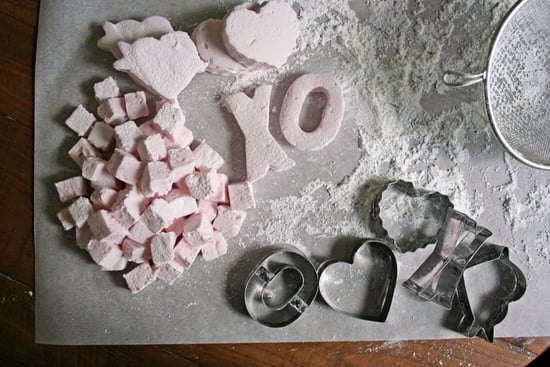 If you are in a festive mood, use themed cookie cutters for adorable heart-shaped marshmallows. The scraps can easily be cut up into bite-sized pieces that are equally as enjoyable. For an even more decadent treat, dip the marshmallows in white chocolate fondue. Are you ready to add luscious, homemade marshmallows to your culinary repertoire?
Click here to view the recipe.
Ingredients
3 packages unflavored gelatin
1 cup ice cold water, divided
12 ounces granulated sugar, approximately 1 1/2 cups
1 cup light corn syrup
1/4 teaspoon kosher salt
1–2 tablespoons rose water
A few drops of red food coloring
1/4 cup confectioners' sugar
1/4 cup cornstarch
Nonstick spray
Equipment
Stand mixer
Candy thermometer
9-by-13-inch metal baking pan
Offset spatula
Cookie cutters
Directions
Sift confectioners' sugar and cornstarch together in a small bowl.
Lightly spray a metal baking pan with nonstick cooking spray. Add a little of sugar and cornstarch mixture to the pan and lightly tap to coat the bottom and sides. Return any remaining mixture to the bowl for later. Lightly coat the offset spatula with nonstick spray and set aside for later.
Whisk together the gelatin and 1/2 cup water into a small bowl and let sit for five minutes until gelatin is dissolved.
In a small heavy-bottom saucepan, combine 1/2 cup water, granulated sugar, corn syrup, and salt. Cover and cook over medium high heat for three to four minutes. Uncover, clip a candy thermometer onto the side of the pan, and continue to cook until mixture reaches 240ºF, approximately seven to eight minutes. Immediately remove from the heat.
Turn the mixer on low speed and slowly pour the sugar syrup down the side of the bowl into the gelatin mixture.
Increase the speed to medium high and allow the mixture to whip for six minutes. Turn speed up to high and whip another six to eight minutes, or until mixture becomes very thick and is lukewarm. Add rosewater and food coloring during the last minute of whipping.
Quickly pour the mixture into the prepared pan, using the lightly oiled spatula to spread the mixture evenly into the pan. Generously dust the top of the marshmallow with the sugar and cornstarch mixture. Reserve the rest for later. Allow the marshmallows to sit uncovered for four to eight hours.
Turn the marshmallows out onto a cutting board and cut shapes using cookie cutters dusted in the sugar and cornstarch mixture or use a pizza wheel to vertically and horizontally cut marshmallows into one inch-square pieces. Dust the newly cut marshmallows with the sugar and cornstarch mixture. Store in an airtight container for up to three weeks. If marshmallows become too moist over time, redust them to "refresh" them.
Makes about 50 square marshmallows.
Information
Category

Other, Desserts

Cuisine

North American