Rosemary Cranberry Martini Recipe
Happy Hour: Rosemary Cranberry Martini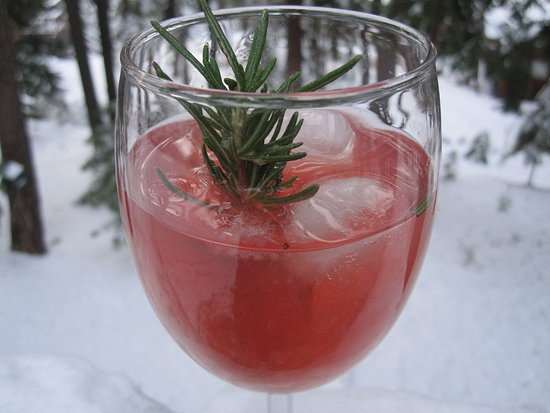 Although using herbs in cocktails is nothing new — in the Summer, I love incorporating basil into drinks — recently, I've been really into experimenting with rosemary as a flavor enhancer. In this recipe, the woodsy herb adds a hint of earthiness to a vodka-cranberry-based concoction. The original method, which I found on a fun iPhone application, calls for blackberry vodka, but I didn't want to splurge on an entirely new bottle of vodka, so I substituted regular vodka instead. It still tastes delicious: it's potent yet balanced and fruity without being overly sweet. I'm definitely making this recipe again! To give it a try, learn the technique now.
Ingredients
2 1/4 cups vodka
3/4 cups fresh-squeezed lemon juice
3/4 cup simple syrup
1 1/2 cups cranberry juice
12-20 rosemary sprigs
Directions
Wash rosemary sprigs. Dry and place in a pitcher.
Add the vodka, lemon juice, simple syrup, and cranberry juice. Keep refrigerated until ready to use.
Line up wine glasses on a table. Fill each with several ice cubes and top with the vodka mixture. Garnish with a sprig of rosemary. Enjoy! Alternately, pour a small amount (3/4 cup) of the mixture into a cocktail shaker. Add a rosemary sprig, top with ice, and shake vigorously. Strain into martini glasses. Rinse shaker and repeat until all cocktails are created.
Serves 8-10.
Information
Category

Drinks, Cocktails

Cuisine

North American