Rum and Coke Rib Recipe
Sick of the Same Old Marinade? Make Rum 'n' Coke Ribs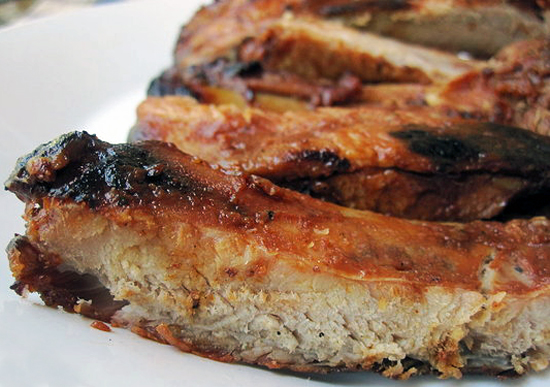 In need of a different ribs recipe? How about this interesting technique that marinades the ribs in a classic cocktail? That's right, rum and coke are combined with ketchup, Tabasco, and hoisin sauce to create a flavorful marinade for ribs. While the pork cooks on the grill, the marinade is boiled until it's thick like barbecue sauce. The resulting ribs are sweet and salty with just a hint of heat. Be sure to serve with lots of napkins; these saucy ribs are delectable, but messy! Here's the recipe.
Rum 'n' Coke Ribs
From My Grill by Pete Evans
Ingredients
1 cup rum
3 cups cola
1 1/3 cups tomato ketchup
1-2 dashes of Tabasco sauce
2 garlic cloves, minced
4 tablespoons hoisin sauce
2 racks of pork ribs
Directions
Combine the marinade ingredients in a bowl, then place the ribs in a nonreactive dish and cover with the marinade. Refrigerate overnight.
Set up the outdoor grill for indirect-heat cooking over medium-low heat, leaving half of the fire bed free of coals.
Place the ribs in a heavy roasting pan and place on the cool part of the grill. Cover the grill and cook for 1 hour and 15 minutes, basting the ribs every 20 minutes with the marinade.
Add more coals to the fire or turn up the burner so the grill is medium hot. Remove the ribs from the pan and place directly on the grill great. Cook 5 minutes on each side, or until caramelized and lightly charred.
While the ribs are cooking, place some of the marinade in a saucepan on the grill, bring to a boil and reduce by half to serve as a sauce with the ribs.
Serves 2.
Information
Category

Main Dishes, BBQ

Cuisine

North American