Runny French Sheep's Milk Cheese
Epoisses For Beginners: Fromi Brebirousse d' Argental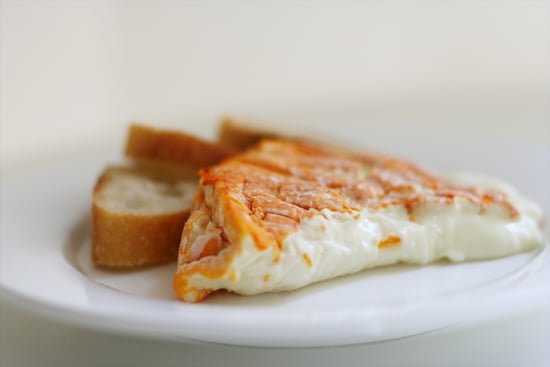 As soon as I enter a grocery store, I'm pulled like a magnet to the cheese section. Each week, my eyes scan the mountains of cheese to find the right one to satisfy my hankering, whether it's for something dry and crumbly or most recently, for a soft and runny cheese like this Fromi Brebirousse d' Argental. As soon as I saw this washed-rind sheep's milk cheese from France, it was love at first sight, or rather first whiff. Mostly, it was because it reminded me of my all-time favorite cheese, Epoisses, with its bright orange rind and oozing interior.
Keep reading for my tasting notes.
The thick, moldy rind cracked as I unwrapped the cheese, exposing its creamy white interior. Disliking wasted cheese more than anything, I scraped the runny bits from the package and proceeded to slather them like butter atop two sour baguette slices, handing one to YumSugar assistant editor Nicole Perry. We marveled at the unique texture of Brebirousse. Nicole likened it to macaroni and cheese, and we decided its texture is like a cross between condensed milk and Velveeta cheese. Reminiscent of modern, manufactured dairy goods, the bits of Brebirousse are slow to melt and dissolve on the palate.
In terms of flavor, this cheese is ripe, but not quite as pungent as fermented cabbage, despite having a potent barnyard quality. While it starts smooth both in texture and flavor, its flavor blooms and becomes bitter and grassy as the cheese coats the tongue. Acidic fruits like apples tend to amplify the funky flavors of the cheese in an off-putting way, so it's best paired with a starchy baguette, which adds sweetness. Because Brebirousse is an outspoken cheese and temperamental with flavor pairings, avoid eating this cheese on a mixed cheese plate. Instead, cut the beautiful square mold in half, and serve the triangle slab with fresh bread.