Russian Dishes and Ingredients
Meet Me in Moscow: A Russian Food Primer
Whenever you're complaining about the ferocity of Winter, just remember things are much, much colder in other parts of the world. But while Russian Winters may be brutal, they've got plenty of amazing, comforting recipes with flavors designed to take that chill out of your bones. It's time to call up your babushka, put on your copy of Doctor Zhivago, and grab a tall glass of vodka, if you see fit! It's time to get reading about the delicious dishes Russian cuisine has to offer.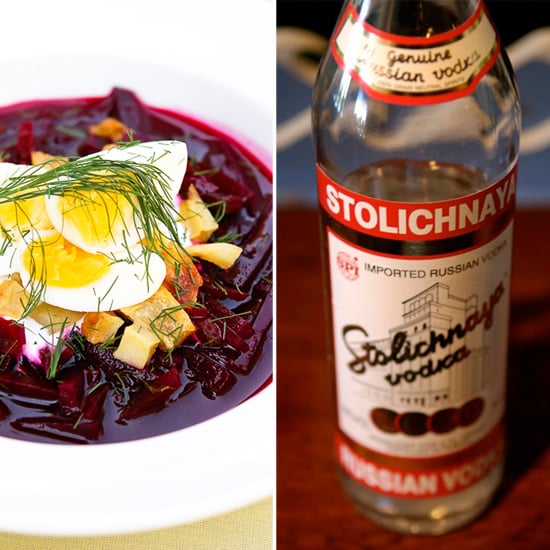 Dishes:
Solyanka: The base of the spicy and sour solyanka soup consists of pickled cucumbers with brine, cabbage, mushrooms, sour cream, and dill. It's either served with meat, fish, or mushrooms.
Pirozhki : Pirozhki are small buns that are stuffed typically with a savory filling and then baked or fried. Some typical fillings include meat, onion, eggs, mashed potatoes, or cabbage.
Stroganov: Beef stroganov, or stroganoff, is cooked up in many a cafeteria today, but this recipe originated in Russia. It's typically pieces of beef served up in a sour cream-based sauce on top of egg noodles.
Blini: These thin, crepelike pancakes are enjoyed with either a savory or sweet topping. As opposed to the French crepe, blinis are made from buckwheat and are part of traditional Russian cuisine.
Borscht: Soups are a staple of a traditional Russian diet. And borscht is the czar of these soups. While it's served up cold in many restaurants in the US, traditionally borscht, primarily made of beets, is served piping hot.
Vatrushka: This traditional Russian dessert is a big ring of flaky pastry dough with cottage cheese in the center. Similar to a delicious American-style Danish, it's typically topped off with raisins or bits of fruit.
Staples:
Smetana (sour cream): Blinis are topped off with it. Soups utilize its flavor. It's even used in dessert recipes! In short, expect to find fresh and delicious sour cream accompanying just about Russian ration you eat.
Black bread: The dark, crusty, hearty rye bread is served alongside many a Russian dish.
Ikra (caviar): Briny caviar is a definite splurge in the US, but in Russia, you can find caviar far more often on a table. It's often served with blinis or atop black bread.
Did I leave anything off? Any Russian foods you love to chow down on? Add your thoughts in the comments!
Source: Flickr User Istelleinad & geishaboy500