Ruth Reichl's Fast and Easy Recipe For Seafood Paella
Sunday Dinner: Easy Seafood Paella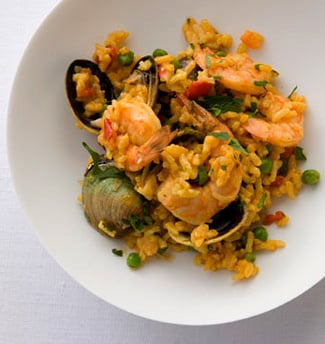 One might not equate the word "paella" with "easy mealtime fix," but this recipe from former Gourmet editor Ruth Reichl will dispel your notions of this Valencian dish being too complicated to make at home.
Eschew unconventional ingredients like rabbits and snails or labor-heavy shellfish like lobster and crab for already-shelled shrimp and quick-cooking clams. Take advantage of frozen peas and rudimentary equipment like a Dutch oven — both things home cooks often already have on hand.
To make the meal simple enough for a weeknight or relaxed Sunday night, keep reading.
Ingredients
2 tablespoons olive oil, divided
2 oz. Spanish chorizo (cured spiced pork sausage), cut into 1/4-inch pieces (rounded 1/2 cup)
4 garlic cloves, finely chopped
1 medium onion, chopped
1 red bell pepper, chopped
1/2 teaspoon pimentón (smoked paprika)
1 1/4 cups short-grain white rice such as Arborio
2 1/2 cups reduced-sodium chicken broth
1/8 teaspoon crumbled saffron threads
1 lb. cockles or other very small (1-inch-wide) hard-shelled clams, scrubbed
3/4 lb. medium shrimp, shelled and deveined, leaving tail attached
1 cup frozen peas
Garnish: chopped parsley
Directions
Heat 1 Tbsp oil in a deep 12-inch heavy skillet (preferably straight-sided) over medium-high heat until it shimmers. Cook chorizo, stirring until golden, about 3 minutes. Transfer to a plate with a slotted spoon.
Add remaining Tbsp oil, garlic, onion, and bell pepper to skillet with pimentón, 1/2 tsp salt, and 1/4 tsp pepper and sauté until golden, about 5 minutes.
Stir in rice, broth, and saffron, and bring to a rolling boil, uncovered. Reduce heat and simmer, covered, and undisturbed, until most of liquid is absorbed, about 8 minutes. Stir in cockles and shrimp, and cook covered, until cockles open wide and shrimp are cooked through, 3 to 6 minutes. (Discard any cockles that remain unopened after 6 minutes.)
Remove from heat and stir in peas and chorizo. Cover with a kitchen towel and let stand until all of liquid is absorbed, about 5 minutes.
Serves 4.
Information
Category

Main Dishes, Shellfish

Cuisine

Spanish/Portuguese