Ruth Reichl Interview at the Good Food Awards
Ruth Reichl: "American Food Is the Best in the World Right Now"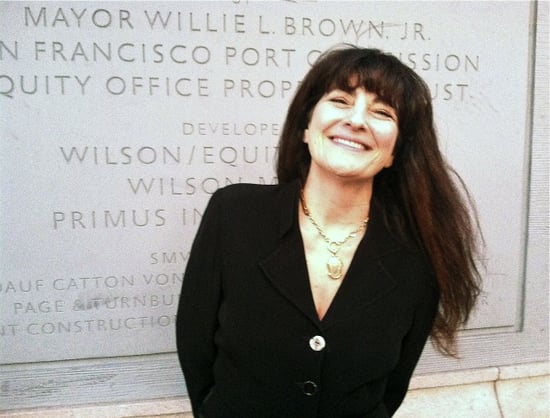 This weekend, food artisans from around the country are being honored in the second annual Good Food Awards, which celebrate American food producers who enhance the country's agricultural landscape and help to build community. While the awards are relatively new to the gastronomic landscape, they're already backed by some of the country's biggest food influencers, such as Whole Foods, and seminal culinary figures, like Ruth Reichl.
Ruth is currently the editorial adviser at Gilt Taste, another cosponsor of this weekend's Good Food Awards. The author, former New York Times food critic, and final Gourmet editor sat down with me over dinner at Mission Chinese Food to talk more about good food and future projects.
YumSugar: Tell me about the partnership between Gilt Taste and the Good Food Awards. How did it come about?
Ruth Reichl: I've known Sarah [Weiner, the director] for a long time, and we've been talking about this for a long time. When I went to Gilt Taste, it just seemed like a seamless, natural partnership, finding and supporting food artisans in America.
YS: You're the keynote speaker at this year's Good Food Awards. What kind of a legacy do these awards create?
RR: It's hard for younger people to understand how bad things were in America, a time when all food was essentially industrial. There were no farmers markets. I have an interview with Wolfgang Puck that I did in 1982 where he goes, "Six years ago, there was no decent food in America." Now, there's this explosion of farmers markets, and while so much of the world is abandoning their food heritage, Americans are reclaiming theirs before it gets lost . . . We have these two completely parallel, simultaneous, and opposite tracks: on the one hand, people with money who eat organic, sustainable, handmade food. But if you're a poor person, you're stuck eating stuff that's cheaper than food and that will kill you. Food safety in this country becomes a worse and worse issue; we import more and more food; 80 percent of the antibiotics in this country go to perfectly healthy animals. We have a real crisis on the one hand — and on the other hand, we have, for the first time, an awareness of it. Which is quite stunning.
I really do think American food is the best in the world right now, because of the people making the kind of food that goes to the Good Food Awards. We have to nurture it, and make sure that it doesn't just stay with us in this little enclave.
YS: There's movement toward eating a plant-based diet. What do you think of that?
To find out her answer, keep reading.
RR: We're omnivores. I mean, I respect the motivation behind it. I'm conflicted in that I'm not sure if I had to go kill a pig, if I can do it. But on the other hand, we are all animals, and it's our animal nature to eat animals. It is what we do, and what we're meant to do.
YS: So you've also served as a judge for these awards. On what sort of criteria are the finalists judged?
RR: It was just what was good. I was judging preserves, and we were just tasting them. I was doing it with Nell Newman, who I'd never met before. We all did it together in a room; I was doing it with Nell and Alice [Waters]. And we were all eating really thoughtfully. We were completely unanimous about it. There were no surprises. I still don't know whose we were tasting, it was done totally blind — but there was never a moment when I said, "Oooh, this is terrible," and Alice said, "This is wonderful!" It's kind of reassuring. Good food is good food; you know it!
YS: You're editorial adviser for a site that's commerce-based, not advertisement-driven. What's the future of food sites and commerce, given the economic recession?
RR: It's really clear that information about food is something that people can't get enough of. People are going to be reading food magazines, looking at blogs, looking at recipes, buying cookbooks. We're only six months old; the jury's still out on where this will go, but if you look at what's happening to print, generally, not just in food but in everything else, all the magazines are now trying to figure out how to make commerce a piece of what they do. They're all trying to figure out how to sell the product that they like.
We're finding some surprises: I thought that people were going to want the things that I'm most excited about. Red Boat Fish Sauce, which I'm just completely in love with. Not that we don't sell it; we do. But we're selling a lot of chocolates, cheese, and wine. We have the best little baby octopuses you've ever had, and we're not selling a lot of them, and it just breaks my heart. It shouldn't be a surprise to me, but it always is. I've been looking for good fish sauce for such a long time. When we did a story on fish sauce in Gourmet, there was not one fish sauce from there that you could find in the country that came from Phu Quoc, so I can't understand why everybody who comes to Gilt Taste isn't interested in buying this. Things like black garlic; we made recipes for how to use it, and I wanted people to be really excited about it.
YS: What are you working on now at Gilt Taste?
RR: The big new change that we've made is six months in, we now have enough statistics to look at what's successful. I've started this How to Make a Better . . . column. [Her first was on app. The recipes will actually be action-motivated so you don't have to touch your iPad.
YS: You've had this life colored by travels everywhere from the jungles of Laos to the coastline of Paraty. Is there any cuisine you've yet to taste?
RR: Oh, there are so many. I've never been to India! I haven't been to Japan in more years than I'd care to admit. There are huge swaths of China that I've never been to, and I want to go back to all the places that I've been to. I haven't been to Paris in two years.
YS: What was the last truly formative culinary experience for you?
RR: I had this great moment last year when I was walking with a friend in LA and my phone rang and it was Ferran [Adrià] saying, "I'm closing my restaurant, and you'd better come." We did the first article on him in America at Gourmet, but I'd never actually been to his restaurant. So I went with a group of friends in June, right before he closed at the end of July. The food there was so much fun, but it was also wandering around for a few days with a group of completely obsessed food people, eating in the boquerias on the Costa Brava, and eating grilled shrimp with our feet in the sand. One of the people who came was Bill Buford's wife, Jessica, who's working on her Master Sommelier of Wine, so drinking wines with her, too. And then [LA Weekly critic] Jonathan Gold came over for a couple of days. My son came along, which was really fun, since my husband is not a food guy. It was really, really fun.
YS: There's been a long San Francisco/New York restaurant debate; who's creating the most dynamic food in the country right now?
RR: I actually think Los Angeles, for ethnic food. There's nowhere else in the country where you can find these huge Korean, Taiwanese, Vietnamese, Salvadoran enclaves. When I was first in LA I did this interview with a Thai chef who said he realized he could spend the rest of his life in Los Angeles and never learn English and never have to cook for anybody but Thai people. There is no restaurant in New York where you can find noodles with pork uterus on the menu, and there are at least 10 restaurants in LA that I know of. In New York, the ethnic food, part of the way this city is, everybody's all mixed up, so you don't have a huge Korean population that can support 10 black goat soup restaurants.
San Francisco — the whole Bay Area — is another animal. I think this is the best place to cook in the whole country and maybe the world. It's, in some ways, hard for restaurants because people can cook really great food at home here. New Yorkers go out for four meals a day. People here don't go out as much, and when they do, they're really demanding. I've always said that what it takes to make a good restaurant in town is demanding diners, and I think people won't put up with much in San Francisco, and there just aren't as many people to go to restaurants. One of the great things for New York restaurateurs: you have the Japanese customers come in at 6, the older Americans come in at 8, the kids coming in at 10:30. Then the Spaniards come in at midnight! So you can turn your tables many times. There aren't very many places in the world where that happens.
YS: A while back, you declared texture to be the next frontier in food. What do you mean by that?
RR: I feel like we've really crossed the flavor barrier. People will eat all kinds of flavors, even better, which is not an American thing. We've gotten over that, and people are even learning to eat organ meat. But I feel like texture is still something that's hard for Americans to really understand. The next thing I'm expecting is for chefs to break that barrier, getting at beyond just crisp. Americans like fried. They don't really like chewy, and they don't like slimy. The Chinese really understand texture: there are foods that they will eat that have no flavor, just texture: jelly fish, fish maw, bird's nest. And Japanese people love slimy textures.
YS: Is it still possible for restaurant critics to really be the eyes and ears of a restaurant? Does traditional criticism have a real future in food media?
RR: I don't know that anybody can be anonymous anymore. It feels impossible to me. You could do a really great disguise, which would probably only last once, because somebody would get your picture and tweet it all over the world. I do feel like there's a real place for critics, but I think that the burden to the critic is much less about opinion. I really like what Pete Wells has done in the first couple of reviews, because what he did with Wong was he actually interviewed the chef. It wasn't just "I think this is good, I think this is bad." When you go to Wong now, you know who the chef is, what he was trying to do, how he developed the menu; you have a better understanding of the food that you're eating and why it's there. He also brings a kind of excitement over how he found this place. I think the anonymity thing probably goes away, and that changes what you do with the review. On the other hand, I think that the critic can do what criticism should do: enhance your ability to understand what — whether it's a book or a movie or a play — what they're trying to do, and give you new tools to enjoy that experience. I don't think you get that from Yelp. People just say, "I had a good meal, I didn't have a good meal." It's a good thing; it means that the critic has to go beyond "this wasn't good," which, for a long time, was all critics were doing.
YS: You're working on a new novel, Delicious, which is set in both World War II and the present. What's it about?
RR: I'm not going to tell you what it's about! But I just turned in the first draft, and I'm about to start on the second draft. It'll be out in about a year. It has food in it; it's not about food, but there's a lot of food in it.
YS: What else is in the pipeline for you?
RR: We're working on the Garlic and Sapphires movie. I'm a producer. Paul Feig [of Bridesmaids] has just signed on to direct it, and I think, coming over here, we just signed a screenwriter. We're starting on script number six!
Photo: Laiko Bahrs