SF Chefs Andrew Freeman
A Day in the Life of Andrew Freeman
The third annual SF Chefs, San Francisco's very own food festival, is taking place this weekend. We caught up with the mastermind behind SF Chefs, Andrew Freeman. Here's what the public relations authority did yesterday, Thursday, Aug. 4.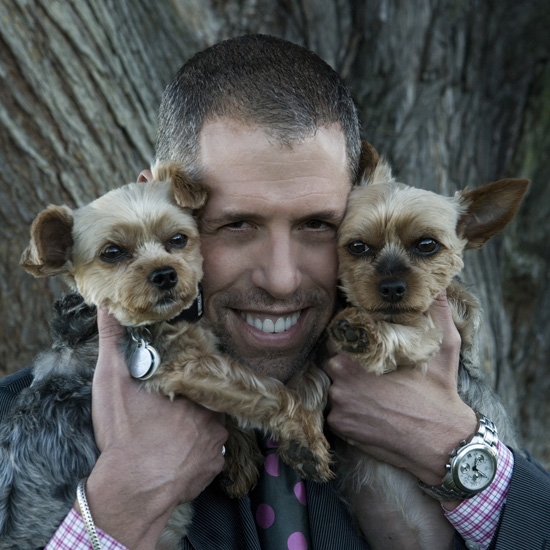 6:30 a.m.: I woke up and I have two little Yorkie princesses, Daisy and Tulep, so I had to take them out. We went for our morning walk and got our heads together about what was coming in the day ahead. I went back home and got them ready to be shipped to the dog sitter for the weekend.
9 a.m.: I got to the office and started making conference calls. I checked in with festival clients and was making sure everyone's ready for the big day.
10 a.m.: There was a walk through at the tents in Union Square. The key players were there: Dominic Phillips, the GGRA [Golden Gate Restaurant Association], all my team. Everyone has been absolutely incredible to work with! We walked around and went through where the ribbon cutting ceremony was happening. Basically where everything that is going to be going on for the weekend, we went over.
11:30 a.m.: I raced back to the office to do a conference call with Martin Yan and his team about the opening of his restaurant in early 2012.
Keep reading for the rest of Andrew's exciting day.
1:15 p.m.: I had some internal meetings. Every few days, I sit down with different people on the staff, like the marketing people, or my PR team.
1:45 p.m.: My great assistant, Sarah, delivered a chicken salad from my favorite place, Panera.
2:45 p.m.: I went over to the Westin St. Francis to check out a panel that was for SF Chefs. It went from 3 to 4:30 and was titled, "Location! Location! Location!"
5 p.m.: I hopped into a cab and headed over to Lafitte for a meeting with Russell Jackson, the chef there. We talked about some upcoming stuff at the restaurant and I made sure he was getting ready and prepped for SF Chefs.
5:45 p.m.: I went back to the Westin St. Francis for our first event, the Sugar and Spice party! 245 people showed up and all the food was either made with sugar or spice. It was a great group of chefs doing the food. We had two drag queens who were dressed up, one as Sugar and one as Spice, and they greeted people when they came in. We were at the top of the Westin St. Francis, so there was a gorgeous view. I'm so proud of the chefs I work with, like Hoss Zaré and Ethan, the chef from Cavallo Point and Murray Circle. It's like they are my children: I can't pick one chef as a favorite because they are all so great! The highlight for me was how much people love this event. They love that we are celebrating the chefs, winemakers, and bartenders of San Francisco. I could just feel the energy in the room!
7:45 p.m.: I ran downstairs to the room where the hotel has free WiFi. I had to check some emails to prepare for the panel I am leading later today.
9:40 p.m.: I got into another taxi and headed home.
10:00 p.m.: When I finally got home, I realized that I had not had anything to eat! The fridge was, of course, empty, so I ended up making an omelet with frozen vegetables that were in my freezer.
10:45 p.m.: I packed a bag for the weekend. I'm staying at the Westin for the weekend and while I packed, I caught the results of So You Think You Can Dance, which I just love. Then, I caught a little Glee.
12:15 a.m.: I got into bed with my computer and was going to do catch-up on some emails, but . . .
4 a.m.: . . . I woke up at 4 and my computer was on my lap! All the lights were still on; it was funny.
Source: Werner Images