Saffron Road Crunchy Chickpeas Review
Taste Test: Saffron Road's Crunchy Chickpeas
I'm an avid snacker and a spicy-food devotee, so when we received a shipment of Saffron Road's new line of crunchy chickpeas, it felt as though the stars had aligned. Sustainably farmed, organic, and halal, these nibbles are relatively guilt-free as far as packaged snacks go, so it was with much excitement that I giddily tore open a bag (or three) to share with my officemates.
Crunchy Chickpeas are a new offering from Saffron Road and come in three different flavors: Falafel, Bombay Spice, and Wasabi. Find out what we thought of all the flavors.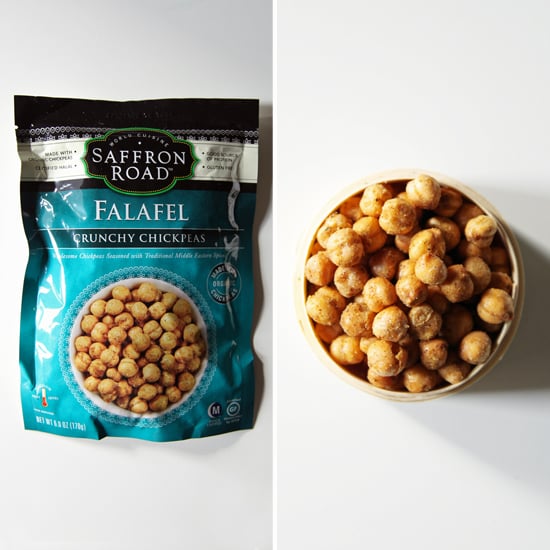 Falafel
Perhaps the bag we had was a dud, but these falafel-inspired goodies had a slightly stale crunch that put off many tasters. Otherwise we generally appreciated their authentic falafel flavor, moderately intense heat, and pungent spice-coating.
Snack or skip? Snack.
Keep reading to see reviews of the other two flavors.
Bombay Spice
Overall the favorite of the bunch, these Indian-spiced chickpeas were crisp and crunchy and won most tasters over with their intense seasoning (though some wished they were a hair less salty). And while many appreciated the garam masala-esque spice blend, detractors cited a disappointing one-note flavor profile, and nearly everyone wished that their flavor lingered on the palate longer.
Snack or skip? Snack.
Wasabi
It's a bad sign when the first words that come to mind are "where's the wasabi?" when tasting a wasabi-spiced snack. Onion-powder heavy and slathered in salt, these snacks reminded one taster of Funyuns and, though inoffensive, were uninspiring. If these were repackaged as an onion-flavored chickpea, we might be swayed, but their lack of label-implied heat and zingy wasabi spice mean we're unlikely to pick up a bag.
Snack or skip? Skip.
Overall thoughts:
We had high hopes for these snacks, and though they didn't entirely live up to their promise (particularly with the wasabi version), we'd happily toss them into salads to add satisfying crunch, nibble on them in small portions out of hand (with a large glass of water to quench salt-induced thirst), or toss them into a savory nut or Chex mix.