Salsa Verde Chicken Wings Recipe
The Wide World of Wings: Salsa Verde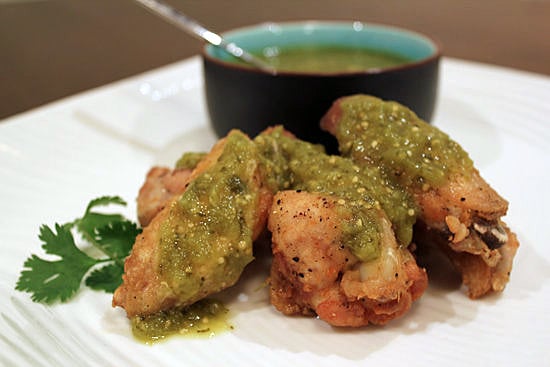 Wings are a game day mainstay, but before you grab that bottle of Frank's RedHot, consider a version or two that journey beyond buffalo. This week, we tread the less-beaten path through wing-dom with a look at five recipes that shed new light on our favorite chicken part.
Today, our wings get a south of the border kick with tomatillo-based salsa verde. Taking a page from the popular Mexican dish chile verde, which tempers the bright tang of this tomato relative with smoky braised pork, I simmered the salsa in some chicken broth for some added flavor depth before thickening up the sauce. Serve the wings drizzled with the salsa verde, and for an over-the-top delight, topped with sour cream and crumbled cotija cheese.
Of course, don't shun the buffalo sauce entirely. For a spectacular game day spread, fry up a large batch of wings, serve them with a variety of sauces, and let your guests pick their favorites!
Keep reading for this finger food treat.
Salsa Verde Chicken Wings
From Sara Yoo, YumSugar
Ingredients
18 whole chicken wings
1 pound fresh tomatillos (husks removed and washed thoroughly) or one 28-ounce can of tomatillos
1 onion, roughly chopped
1 garlic clove
2 serrano chiles (ribs and seeds removed if you want less heat), roughly chopped
1 generous handful cilantro
1 teaspoon salt, plus more for seasoning
1 cup chicken broth
Vegetable oil, for frying
Freshly ground black pepper
1 tablespoon flour (plus more if necessary), for dredging
1 tablespoon cornstarch (plus more if necessary), for dredging
Directions
Remove the tips of the wings and discard or save for making stock. Using kitchen shears, or a knife, separate the wings at the joint. (See how to prep wings for appetizers.) Rinse wing parts under cold water and pat dry with paper towels. Lay wings in a single layer on a wax paper-lined baking sheet and place in refrigerator, uncovered, for an hour.
In a blender, combine the tomatillos, onion, garlic, serrano chiles, cilantro, and 1 teaspoon salt. Blend until smooth and pour into a saucepan or deep skillet. Bring to a simmer over medium-low heat, then add chicken broth. Simmer for 10 minutes, or until tomatillo mixture darkens and thickens so that it coats the back of a wooden spoon. Set aside to cool.
Heat oil in a Dutch oven over medium heat. Remove wings from refrigerator and season on all sides with salt and pepper. Place about a tablespoon each of flour and cornstarch in a large clean plastic bag,

seal

, and shake gently to combine. Working in batches, drop a few chicken wings in the bag, and toss to coat with flour mixture. Shake off the excess before dropping each wing into the hot oil, and fry until golden brown, turning occasionally, about 5-7 minutes. Replenish the flour mixture in the bag as needed.
Transfer fried wings to a wire rack placed over a rimmed baking sheet. When wings are cooled slightly but still warm, pile them on a serving platter, and drizzle with the tomatillo sauce. Serve immediately with leftover sauce.
Makes 3 dozen.
Information
Category

Poultry, Appetizers

Cuisine

Mexican