Sam Adams's Cork-Top Infinium Aims to Add Prestige to Beer
Sam Adams Hopes to Add Prestige With Champagne-style Beer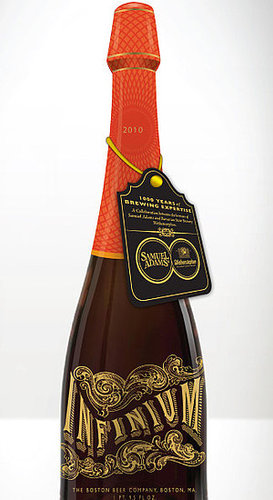 This holiday, could you be raising a glass of beer instead of bubbly? That's what Samuel Adams is hoping with the launch of a new, different brew called Infinium, coming out this month.
Just like Champagne, Infinium will retail in 750-ml bottles, at a price of $19.99, and have foil-covered cork tops, as much alcohol content as some wines, and a finish that's crisp and dry like a brut sparkling wine.
For now, Samuel Adams is only releasing 15,000 cases in North America, but founder Jim Koch hopes to send a strong message. "Beer has all the same dignity and nobility that wine has, it just hasn't been accorded the same level of respect — frankly, because brewers haven't treated it respectfully," he said. "Beer has been marketed with a lot of sophomoric humor and scantily clad women."
It'll be interesting to see how Infinium — the first beer release in a collaboration between Samuel Adams and Germany's Weihenstephan Brewery — will fare.
Could any amount of repackaging and strategic marketing affect your perception of beer?