Sandwich King Interview
Food Network's Jeff Mauro Talks Sandwich Trends and More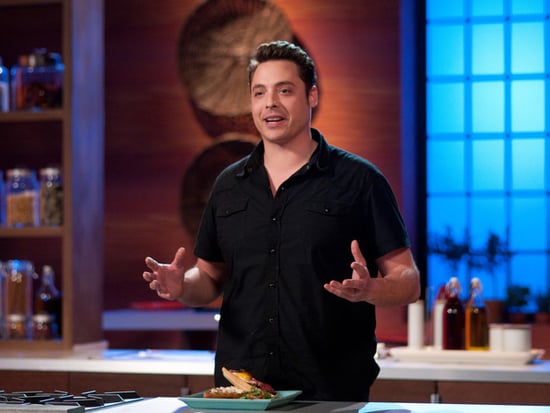 Jeff Mauro, better known as the Sandwich King on Food Network, spent a little time away from his set (and his hectic schedule as spokesperson for Cracker Barrel Cheese) to talk to us about the meats and breads that are currently trending in the sandwich world (surprise: they're actually domestic!) and one classic American dish he's proud to have sandwich-ized.
POPSUGAR: What sandwich trends are you seeing this year?
Jeff Mauro: I am seeing a lot of bologna out there, a lot of grilled bologna. I did a grilled bologna burger last episode on the show that kind of prompted that. I did a really thick cut — I think a half-inch-thick cut — of grilled bologna. A lot of places in Chicago are doing grilled bologna with a fried egg and onions. I guess people want the nostalgia. That is where a lot of great trends come from, harking back to being a kid and eating grilled bologna. I am going to say that is going to explode even further.
PS: Pretzel buns are all the rage. We can't wait to make your homemade version this Summer. What's the ultimate way to fill 'em?
JM: I'll tell you three things: a robust cheddar, pickled jalapeños, and ham. That's all you need; it is the best of everything. It is like a ballpark in your mouth. You get the soft pretzel with the cheddar, so it's almost like a nacho. It's unbelievable.
Keep reading to learn more, including Jeff's favorite sandwich creation from this year.
PS: Season four of your show, Sandwich King (on Food Network Sundays at 11 a.m.), kicked off last month. What's your favorite recent recipe?
JM: I invented it out of the blue in a dream: a pot-pie sandwich made on a fresh thyme and cracked pepper drop biscuit. You make the filling of a pot pie but use that at as a warm sauce, then roast a chicken and pull it and do a sweet pea purée. It has all the elements and flavors of your traditional pot pie, but it is handheld; no fork necessary. I believe it will blow the minds of America.
PS: What other projects are you working on?
JM: I am going to Asia on Friday for a Food Network tour. We go to Malaysia, Singapore, and Manila. That is going to be quite an interesting trip. Sandwich King is a semi-hit in that part of the world, and I was unaware of that, so that is quite flattering to know. Who knows? I might have a few other secrets up my sleeve, maybe another show; you never know.
PS: Does that include a book?
JM: Yes, we are about to choose a publisher. I am writing every day. The world needs a definitive guide to sandwich creation, and I think that I am the man for the job.
Source:
Food Network
(©2013, Television Food Network, G.P. All Rights Reserved)