Sausage Quiche Lorraine Recipe
Sausage Quiche Lorraine
YumSugar member (and What's For Dinner? group creator!) celebrity_soup has plenty make-at-home dinner ideas to share. Here's one of her favorites: sausage quiche lorraine.
Hey guys! I'm baaaaack - you know, the girl that created this group back in 2007? It's so crazy how the group has gone on and how you guys are even posting recipes. Well, I have something to share with you now, a recipe that I love to make for dinner. It's from my website, Freakin' Delicious!, a place where I post all my recipes. I haven't updated it in a really long time but there's a lot to check out if your interested.
Anyway, on with the recipe! It's very easy to make and tastes so good right out of the oven, the pastry is my favorite part - light and flaky.
See the recipe when you read more.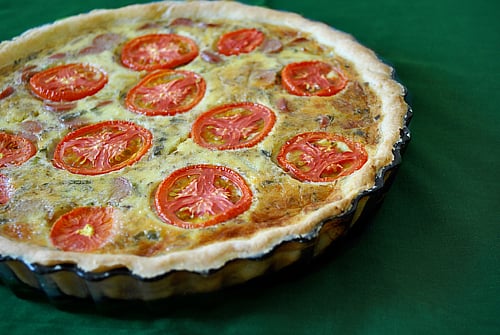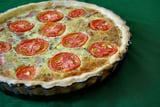 Ingredients
SHORTCRUST PASTRY
1 1/2 cups flour
3 tbsp margarine
3 tbsp shortening/lard/butter/margarine
2-3 tbsp chilled water
pinch of salt
FILLING
4 cooked sausages
2 large eggs
2 egg yolks
2/3 cup cream
2/3 cup milk
1/2 cup grated Gruyère/Pecorino/Parmesan cheese
pinch of salt
freshly ground black pepper
tomato rinds to decorate (optional)
Directions
SHORTCRUST PASTRY

Sift the flour and salt into a bowl. Rub in the margarine and lard (shortening) until the mixture resembles fine breadcrumbs. Add the water and mix to a firm dough. Knead on the lightly floured surface until smooth. Roll out the pastry (dough) and use to line a 20 cm/8 inch flan tin (pie pan).

FILLING

Preheat the oven to 190ºC/375ºF. Cut the sausages into small pieces and add to the prepared flan case. Place the eggs, egg yolks and cream in a bowl and beat together. Stir in the milk, and add salt and pepper to taste. Pour the mixture over the sausage and sprinkle with the grated cheese. Bake in the already preheated oven for 25-30 minutes, until golden. Remove from the oven and leave to set for 10 minutes before serving.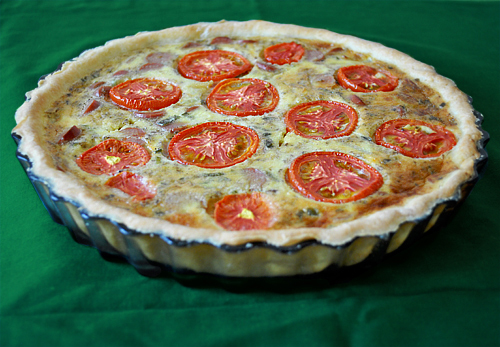 Information
Category

Breakfast/Brunch, Quiches
Want to be inspired by more meal ideas? Don't forget to join What's For Dinner? in the community, where you can also upload your favorite fast dinner ideas!