Savory Blackberry Recipe For Slow Cooker Pulled Pork With Blackberries
Berry Tempting: Slow Cooker Blackberry Pulled Pork
This year, I haven't been able to resist making savory berry recipes: first strawberry spaghetti, then cherry-stuffed tenderloin and blueberry-glazed ribs. And, in my desire to incorporate blackberries into an entrée, I came up with this recipe for pulled pork sandwiches using a blackberry purée. Not only do the ingredients make this dish perfect for the Summer season, but it won't heat up your kitchen because it's cooked over low heat in a slow cooker.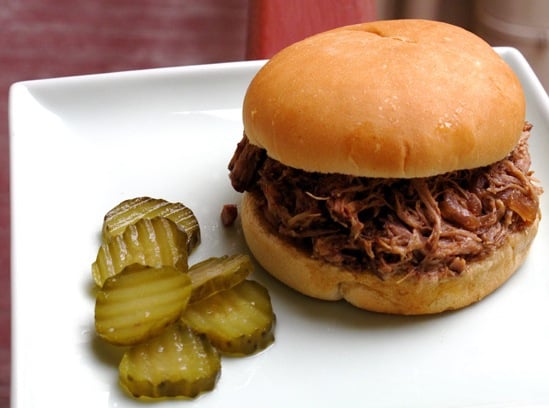 Over the course of eight hours, blackberries, hot sauce, ketchup, vinegar, and garlic meld together to become a sweet and tangy condiment that not only highlights the pork roast's natural flavor, but is less aggressively syrupy than traditional barbecue sauce. If you're interested in the recipe, read more.
Slow Cooker Blackberry Pulled Pork Sandwiches
From Susannah Chen
Ingredients
2 cups fresh blackberries or frozen, thawed
2 pounds pork butt
3 tablespoons cider vinegar
4 teaspoons hot pepper sauce
1/4 cup ketchup
3 garlic cloves, minced
1 sweet onion, sliced
1 teaspoon salt
Soft sandwich buns, split, for serving
Bread and butter pickles, for serving (optional)
Directions
Puree blackberries in blender until almost smooth. Strain puree; discard solids in sieve.
Place blackberry puree and next seven ingredients in a four-quart slow cooker. Cook on low for 8 hours.
Transfer pork to a plate, and use a fork to shred into fine pieces.
Add the pork back into the slow cooker and toss to coat in sauce. Serve inside split sandwich buns, along with pickles on the side.
Makes 4 pulled pork sandwiches.
Information
Category

Main Dishes, Pork

Cuisine

North American