Savory Olive Tapenade Tart Recipe
Dine on a Delectable Olive Tapenade Tart
Who doesn't love a savory tart? For an afternoon brunch, I rolled up my sleeves to make a mouth-watering puff pastry tart topped with ricotta cheese, caramelized onions, and homemade olive tapenade. The anchovies are initially pungent, but once they reduce and caramelize with the onions, their flavor mellows immensely.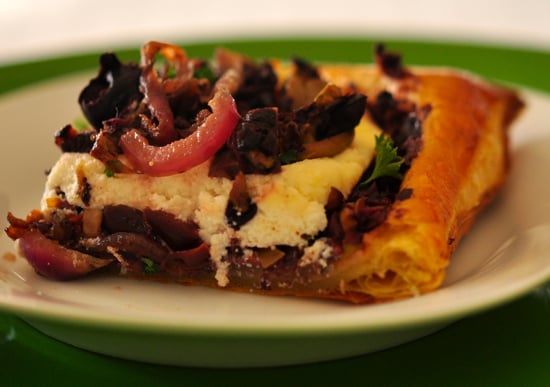 If you're serving vegetarians, leave out the anchovies and salt the onions a little more heavily. The creamy ricotta cheese complements the crunchy crust and salty toppings. This tart is easily prepared ahead of time and then thrown in the oven to bake just before serving. Don't bother ordering a pizza; just make a savory tart at home. Keep reading for the recipe.
Olive Tapenade Tart With Caramelized Onions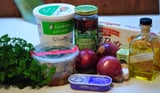 Ingredients
2 Tbs. extra-virgin olive oil
1 Tbs. unsalted butter
3 oil-packed anchovy fillets, drained and finely chopped
Pinch of crushed red pepper flakes
1 tsp. fennel seeds, crushed
2 medium red onions, halved lengthwise and sliced crosswise 1/4 inch thick (7-1/3 cups)
Kosher salt
2 Tbs. chopped fresh flat-leaf parsley
1 Tbs. chopped fresh thyme
Freshly ground black pepper
1 cup jarred brined olives, rinsed, pitted, and coarsely chopped
1 medium clove garlic, minced
2 tsp. fresh lemon juice
1 tsp. finely grated lemon zest
All-purpose flour, for rolling
1 sheet frozen all-butter puff pastry, thawed
1/3 cup whole milk ricotta
1 large egg
Drizzle of Balsamic Vinegar
Directions
Position a rack in the center of the oven and heat the oven to 425°F.
In a 12-inch skillet, heat 1 Tbs. of the oil with the butter over medium heat. Add the anchovies, pepper flakes, and fennel seeds and cook, stirring, until fragrant and the anchovies begin to break down, about 30 seconds.
Add the onions and a generous pinch of salt and cook, stirring occasionally, until they begin to caramelize, 15 to 18 minutes. Transfer to a bowl, let them cool slightly, and then gently stir in the parsley and 1/2 Tbs. of the thyme. Season to taste with salt and pepper.
In a small food processor, pulse 3/4 cup of the olives, the garlic, lemon juice, zest, and the remaining 1 Tbs. oil and 1/2 Tbs. thyme into a coarse paste. Set the tapenade aside.
On a lightly floured surface, roll the puff pastry into a 9x12-inch rectangle. Transfer to a rimmed baking sheet lined with parchment. Dock the pastry by pricking it all over with a fork, leaving a 1-inch border along the edges.
Spread the olive tapenade evenly on the pastry within the border. Top with the onions, dollops of the ricotta, and the remaining 1/4 cup olives.
In a small bowl, beat the egg with 1/2 tsp. water. Brush the pastry border with the egg wash and bake the tart until the pastry is puffed, deep golden-brown on the edges, and light golden-brown on the bottom, 20 to 25 minutes. Let cool briefly and serve warm. Just before serving drizzle with balsamic vinegar.
Serves 4 to 6 for light lunch.
Information
Category

Main Dishes, Pizza

Cuisine

North American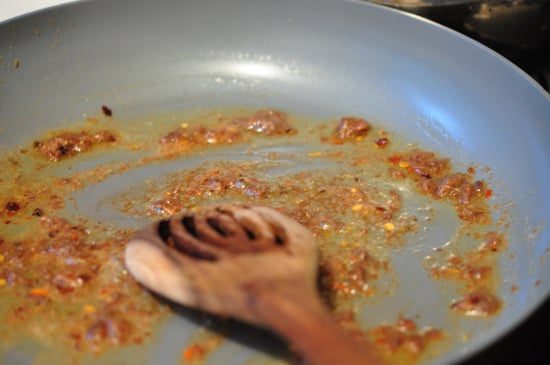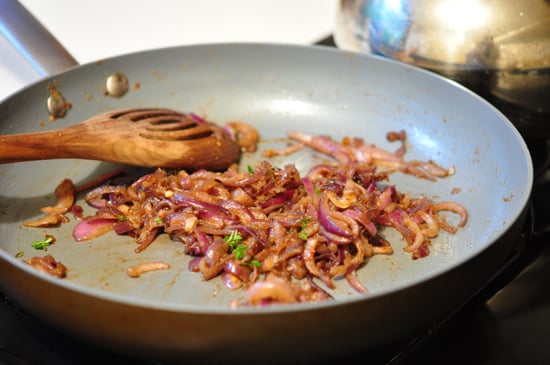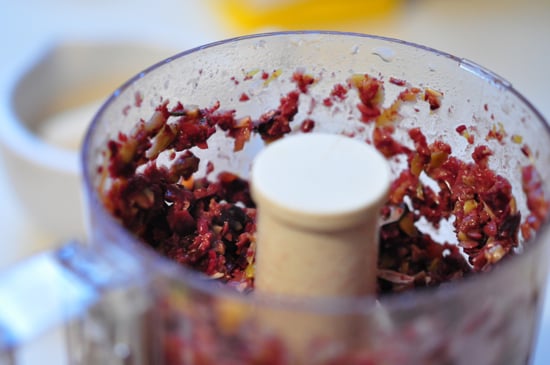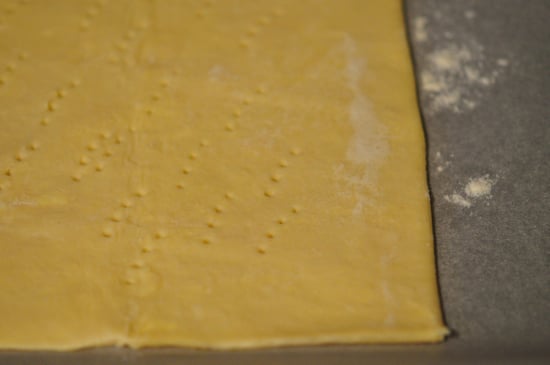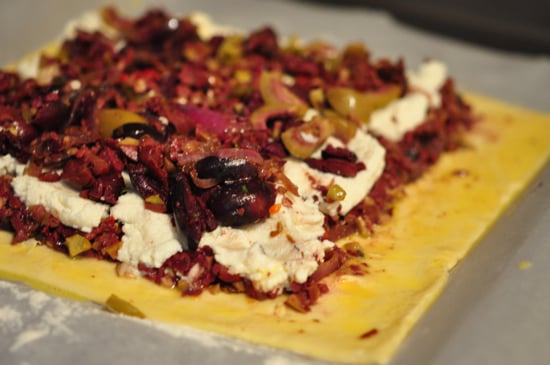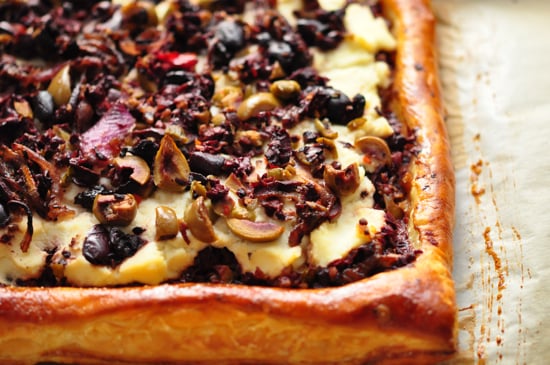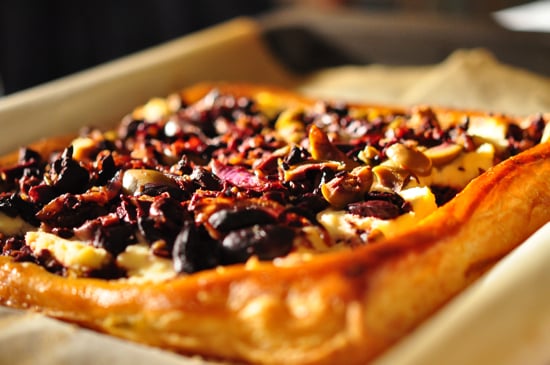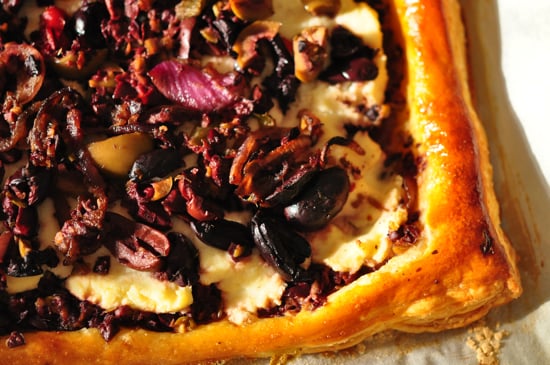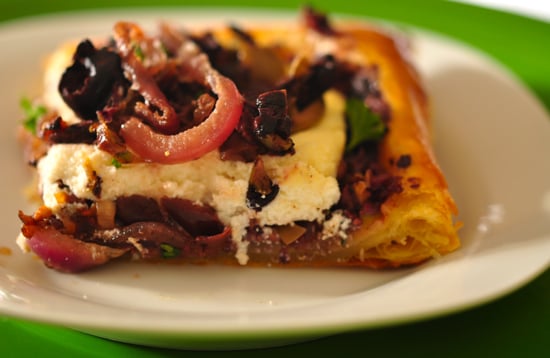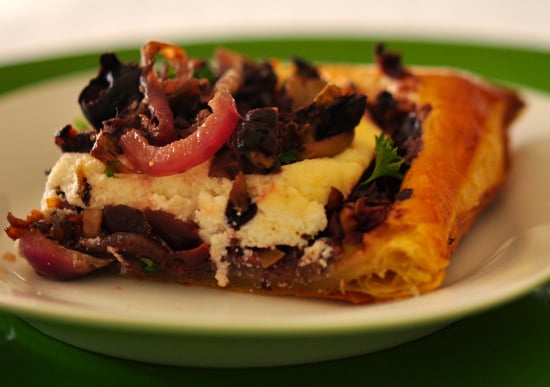 Do you have an amazing recipe? Post your recipe in Kitchen Goddess and we might feature it here on YumSugar!