Say Cheese! Fresh Mozzarella, Italian Sausage Calzones Mozzarella is a widely known, mild Italian cheese that's made from a pulling, stretching, and cutting technique. At one time, all mozzarella was made from water buffalo milk, but now it's commonly made with cow's milk. Fresh mozzarella is packaged in water or whey and has a soft texture and delicate flavor. It's delicious alone, in a salad (like caprese) or melted. To find out how I used my fresh mozzarella boconccini,
.
My first thought was to make a classic pizza margherita, but since I've never experimented with calzones, I decided to tuck the chunks of mozzarella into a pizza pocket.
This recipe is straightforward and can easily be adapted to your culinary specifications. That being said, I followed the recipe exactly, and it was wonderful! The combination of fragrant sausage, garlicky pesto, sweet peppers, and oozing cheese is utterly sublime. I made the components (roasted garlic, spicy tomato sauce, and pesto) from scratch, but feel free to take help from the supermarket.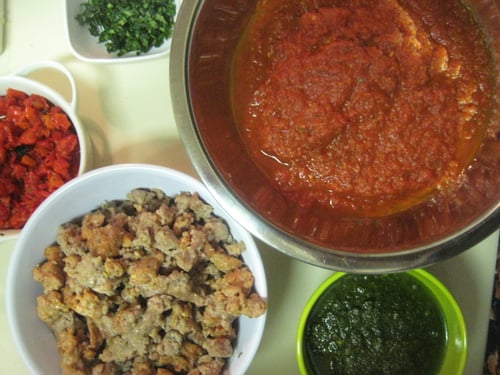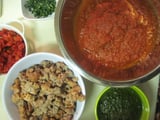 Ingredients
1 ball of basic pizza dough (enough dough for 1 pizza)
1 tablespoon olive oil
Salt and white pepper
1/2 cup thick pesto
1/2 cup roasted garlic
1 cup diced Italian sausage, cooked
1 red pepper, roasted, peeled, seeded and julienned
2 tablespoons chiffonade of basil
4 (1/2-inch) slices of fresh Mozzarella cheese
2 tablespoons grated Parmigiano-Reggiano cheese
1 egg, beaten
1 cup spicy tomato sauce, hot
Directions
Preheat the oven to 500 degrees.
Place the dough out onto a floured surface. Roll the dough out to form a 12-inch circle.
Spread the pesto over one half of the dough. Layer the garlic, sausage, peppers, and basil, alternately over the pesto.
Lay the Mozzarella and parmesan cheese over the basil. Fold the other side of the dough over the filling and pinch the edges to seal the calzone.
Make three slashes across the top of the calzone. Place the calzone on a parchment-lined baking sheet. Brush the calzone with the egg wash.
Bake for 20 to 25 minutes or until golden. Spoon the sauce in the center of the plate. Slice the calzone in half and place in the center of the sauce. Alternately, spoon the sauce into a bowl and serve with the calzone.
Serves 2.
Information
Category

Main Dishes, Pizza

Cuisine

Italian