Say Cheese! Manchego Pizza With Chorizo and Shrimp My obsession with all things Spanish is no secret. From José Andrés to Crianza to paella, if it's Spanish, I love it! This affection includes manchego, Spain's most famous cheese. Manchego cheese is protected by a Denominación de Origen, meaning it can only be made from sheep that graze in the La Mancha region of Spain. The whole sheep's milk cheese must also be aged in natural caves for a minimum of two months.
Depending on how long it's aged, the flavor can range from mild to sharp. Manchego comes in a round shape and is cut into chunky wedges. The inedible rind gets its pattern from the manufacturing process that involves wrapping the cheese in sheets of a special woven grass. Manchego tastes creamy and slightly salty. Learn how to use the versatile Spanish cheese and check out the recipe for this scrumptious pizza when you
. For a simple snack, pair manchego slices with crackers, olives, and jamon Serrano. Shave on salads and roasted vegetables, or as Yum suggested yesterday, enjoy in a turkey sandwich with pear butter. Manchego is also a great cheese for melting. It can be used in quesadillas, grilled cheese sandwiches, or in my case, on pizza!
Although there only four ingredients in this pizza, the flavors combine sensationally.
The tangy manchego complements the bitterness of the escarole and the spiciness of the chorizo. The shrimp is an exciting addition. I definitely plan on making this tasty pie again.
Manchego Pizza With Chorizo and Shrimp
Modified from Food and Wine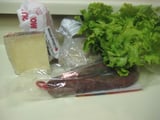 Ingredients
1 large ball of refrigerated pizza dough
2 tablespoons extra-virgin olive oil, plus more for brushing
1 large garlic clove, minced
1/2 head escarole, cut into 1-inch pieces (4 cups)
Salt and freshly ground pepper
6 ounces Manchego cheese, shredded (2 cups)
1/2 pound medium shrimp—shelled, deveined and halved lengthwise
1 1/2 ounces firm chorizo, thinly sliced
Directions
Preheat the oven to 500°F. If you have one, set your pizza stone on the bottom of the oven to heat for at least 30 minutes.
On a floured work surface, divide the dough in half and roll each half into a ball. Roll out 1 disk of dough to an 11-inch round. Transfer to a floured pizza peel or other baking sheet.

Prepare the toppings: In a large skillet, heat the olive oil. Add the garlic and cook over moderate heat until golden, about 1 minute. Add the escarole and cook, tossing, until wilted, about 2 minutes. Season with salt and pepper.

Lightly brush the edge of the dough with olive oil. Scatter half of the Manchego over the dough, leaving a 1/2-inch border at the edge, then top with half of the shrimp, chorizo and escarole.

Slide the pizza onto the hot stone (or baking sheet) and bake for 10-15 minutes, or until the crust is browned on the bottom, the shrimp is cooked through and the other toppings are sizzling. Cut the pizza into wedges and serve immediately. Repeat with the remaining dough and toppings.
Serves 4.*
*When I made this pizza, I halved the recipe.
Information
Category

Main Dishes, Pizza

Cuisine

Spanish/Portuguese