Say Cheese! Pork Chipotle Muenster Burgers Muenster is an American creation related to France's Munster cheese. It has a smooth texture, yellow interior, and orange rind. Muenster is incredibly mild in flavor with a taste somewhere between American cheese and Jack cheese. The cow's milk cheese is semisoft and great for melting. It's ideal on a grilled cheese sandwich, or in my case, a pork chipotle cheeseburger. To check out the recipe, which is perfect for this weekend's kickoff to Summer,
.
When I saw this on Gourmet's website, I was immediately smitten. What's not to love about a combination of spicy pork, oozing cheese, and creamy avocado? I followed the recipe word for word and was impressed with the sheer perfection of the burger. The recipe takes the American classic and infuses it with Latin flavors. The final burger is a juicy, smoky, crunchy (thanks to the ingenious addition of tomatillos) masterpiece. Don't be afraid of the mayonnaise; instead, embrace it as a key ingredient that keeps the burger moist.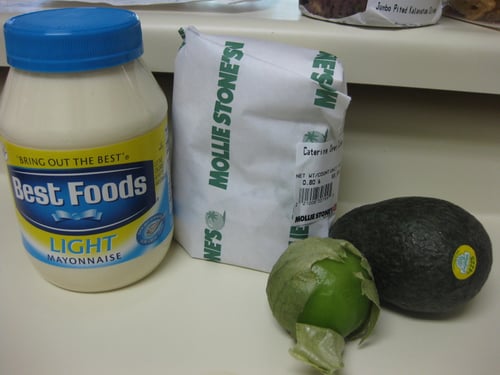 Pork Chipotle Muenster Burgers
From Gourmet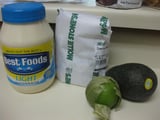 Ingredients
1 lb ground pork (not lean)
2 teaspoons minced chipotle in adobo plus 1 teaspoon adobo sauce
2 garlic cloves, forced through a garlic press
4 slices Muenster cheese
4 hamburger buns, toasted
1/4 cup mayonnaise
1 large tomatillo (1/4 lb), husked and rinsed, then sliced
1/2 small avocado, sliced
1/2 cup cilantro sprigs
Directions
Prepare a gas grill for direct-heat cooking over medium heat.
Gently mix pork, chipotle, garlic, and a scant tsp salt until just combined. Form into 4 (1/2-inch-thick) patties.
Oil grill rack, then grill patties, covered, 4 minutes.
Flip patties and top with a slice of cheese. Grill, covered, until just cooked through, 1 to 2 minutes more.
Spread buns with mayonnaise and assemble burgers with tomatillo, avocado, and cilantro.
Serves 4.
Information
Category

Main Dishes, BBQ