Say Cheese! Potato, Bacon, and Asiago Pizza Asiago is a versatile Italian cheese. The texture and taste depends on its age and can range from smooth and mild to crumbly and sharp. In Europe, for a cheese to be considered asiago, it must be made in the alpine region of the Tento Province in Italy. However, outside the EU, asiago cheese is produced using similar techniques and cultures to those employed in Alpine Italy.
Asiago is made from cow's milk; since the cows graze on lush mountain pastures, they produce a thick, rich milk and, in turn, a distinctly flavored cheese. Its nutty, salty flavor makes fresh asiago an ideal table cheese. It's also nice in sandwiches. Semifirm aged asiago is perfect for grating and can be used like parmesan. To learn what I did with this type of asiago,
.
When I think of grated cheese, pizza immediately comes to mind. Instead of doing a classic pie dough, I used phyllo dough to create this appetizer pizza. The chewy bacon, buttery potatoes, and crispy crust are nice complements to the slightly sweet tangy cheese. This dish would be a delightful addition to a brunch menu. For a vegetarian version, simply omit the bacon.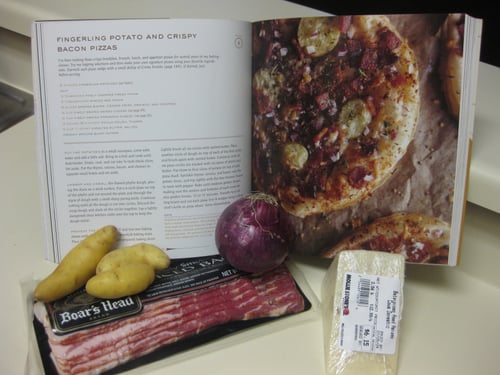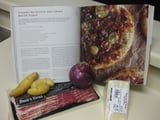 Ingredients
8 ounces fingerling potatoes
salt
3 teaspoons finely chopped fresh thyme
2 tablespoons minced red onion
6 slices smoked bacon, cooked crisp, drained, and chopped
1/4 cup finely grated asiago cheese
1/4 cup finely grated parmesan cheese
8 ounces phyllo dough, thawed
1/2 cup (1 stick) unsalted butter, melted
freshly ground black pepper
Directions
Put the potatoes in a small saucepan, cover with water, and add a little salt. Bring to a boil and cook until fork-tender. Drain, cool, and cut into 1/4-inch-thick slices. Set aside.
Put the thyme, onions, bacon, and cheeses in separate small bowls and set aside.
Unwrap and unroll the thawed phyllo dough, placing the stack on a work surface. Pat a 6-inch plate on top of the phyllo and cut around the plate and through the stack of dough with a small sharp paring knife. Continue cutting until all the dough is cut into circles. Discard the scrap dough and stack all the circles together. Lay a lightly dampened clean kitchen cloth over the top to keep the dough moist.
Preheat the oven to 400°F and line two baking sheets with parchment paper or nonstick baking mats.
Place three phyllo circles on each prepared baking sheet.
Lightly brush all six circles with melted butter. Place another circle of dough on top of each of the first circles and brush again with melted butter. Continue until all six pizza circles are stacked with six layers of phyllo and butter.
Put three to four slices of potato on top of each pizza stack.
Sprinkle thyme, onions, and bacon over the potato slices and top lightly with the two cheeses. Season to taste with pepper.
Bake until medium golden brown, 12 to 15 minutes. Transfer to a cutting board and cut each pizza into 4 wedges using a sharp chef's knife or pizza wheel. Serve immediately.
Makes 6 pizzas.
Information
Category

Main Dishes, Pizza

Cuisine

Italian