Say Cheese! Provoleta, Grilled Provolone A whole cow's milk cheese native to Southern Italy, provolone is now produced in other regions of the world. It has a mild flavor and semifirm texture. The cheese comes in various forms, ranging from a long salami-like shape to a squat-pear formation ideal for hanging. Provolone has a cream-colored rind and white to light-yellow interior. Most of it's aged two to three months, but some is aged up to a year. The older cheese has a deeper yellow color and more pronounced flavor. Provolone is a versatile cooking cheese because it is great for both melting and grating. To find out how I recently enjoyed it, hot off the grill,
.
Provoleta, or grilled provolone cheese, is a classic Argentine dish. The cheese is normally served at the Argentine grill fest known as an asado, but it makes a wonderful starter to any alfresco meal. Although the cheese can be marinated or topped with chimichurri, it's equally delicious plain. I served mine with charred bread and nduja; however, feel free to get creative with the accompaniments.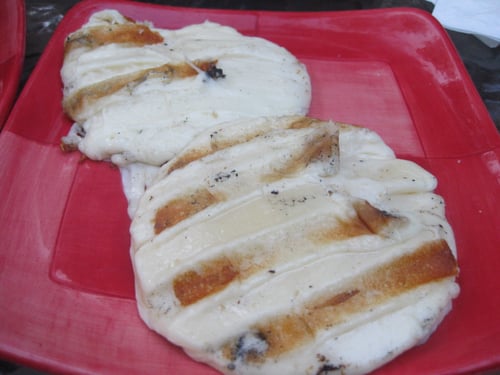 Provoleta
Original Recipe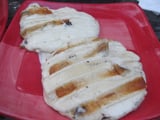 Ingredients
oil for the grill
2 slabs of provolone cheese, cut about 1-inch thick
grilled bread, for serving
Directions
Turn on a grill and heat to medium warm. Brush the grill with oil.
Place the cheese slabs directly on the grill. Cook until the cheese has grill marks and begins to melt about 2-3 minutes. Flip and cover the grill. Cook for 2-3 minutes more until the other side of the cheese is grilled and the entire slab is warmed through.
Enjoy immediately with grilled or toasted bread, crackers, salami, etc.
Serves 6-8.
Information
Category

Cheesecake, Appetizers

Cuisine

South American