The Schlow Burger Recipe
Michael Schlow's Award-Winning Burger
The South Beach Wine and Food Festival hosted by Food Network and Food and Wine magazine kicks off today in Florida. One of the hottest tickets is to the wildly popular Burger Bash hosted by Rachael Ray. In October, I checked out the New York competition that Katie Lee Joel won with her Logan County Burger.
Tonight, Joel will defend her title against last year's South Beach winner, Michael Schlow. Since I won't be present at the SOBE Burger Bash, I decided to treat myself by making Schlow's monster of a burger. The Schlow burger is more complex than Joel's burger and involves fried onion rings, melted cheddar cheese, and a creamy horseradish sauce. The recipe says that the 9-ounce patties make "two fat-boy burgers" and trust me, after eating one of these babies (I made it through half), you'll feel like a fat boy.
However, this incredible burger is worth it. It's a masterpiece of flavors: the crispy onions are slightly caramelized, the lightly seasoned ground beef is tender, the mayonnaise is tangy and provides a much-needed moistness. If you or a loved one is a burger fanatic, make this burger. There's a reason it won the Burger Bash — quite simply, it's absolutely delicious. Want the recipe? Please,
.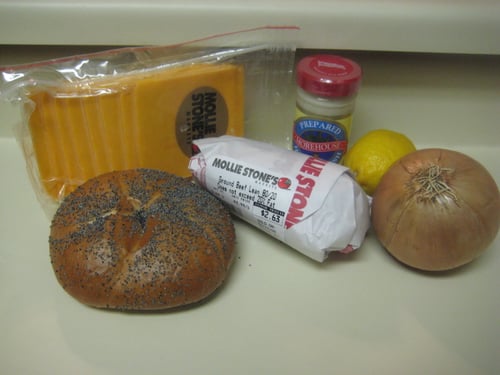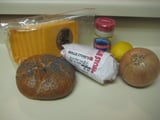 Ingredients
18 ounces ground beef (Ask the butcher for 80 percent lean. Do not change this part, please!)
1 ounce (2 tablespoons) extra-virgin olive oil
Salt and pepper
4 tablespoons mayonnaise
2 teaspoons prepared white horseradish
Juice of half a lemon
2 thick slices good quality Vermont or English cheddar cheese
2 hamburger buns, split in half (buy the best ones you can get; I like brioche buns)
Fresh ground pepper
Directions
Combine the ground beef with the olive oil, salt, and plenty of black pepper.
Divide the meat into two 9-ounce patties and refrigerate until the grill is ready. (Don't do this more than an hour in advance.)
Combine mayonnaise, horseradish, and lemon juice in a mixing bowl and season with black pepper. (You can do this ahead of time and store it in the fridge.)

Heat the grill to high. Take the hamburgers out of the refrigerator 5 to 7 minutes before you are ready to grill them.
Place the burgers on the preheated grill and cook 1-1/2 minutes (for rare). Give the burgers a quarter-turn to "mark" them, and cook 1-1/2 more minutes.

Flip the burgers over and cook 1-1/2 minutes. Rotate a quarter-turn to "mark" and cook 1-1/2 more minutes.
Transfer the burgers to the grill's top shelf or to a cooler section of the grill and cover each one with a slice of cheese. Turn the grill off and shut the lid.

After 4 minutes, open the lid. The cheese will be melted and the burgers cooked rare to medium-rare. Toast the buns, if desired, and place a burger on each. Spread plenty of the horseradish sauce on each burger; it should drip down the sides. Top with Crispy Onions and season with freshly ground black pepper. Slather more sauce on the other half of the bun and place it on top of the burger. Grab a cold beer or iced tea and get ready to make a mess. This is not a dainty meal!
Makes 2 "fat boy" burgers.
Information
Category

Main Dishes, Beef