Scrambled Egg Recipe Ideas
7 Easy Ways to Wake Up Scrambled Eggs
I'm a big believer in the power of a plate of perfectly scrambled eggs. The methodical process of re-creating your go-to scramble moves can be both soothing and delicious, but if you want to spice things up this Spring, the kitchen can be a great place to start. If your scramble is feeling a little (or very) tired, here are seven fresh and simple ideas to help wake your eggs up.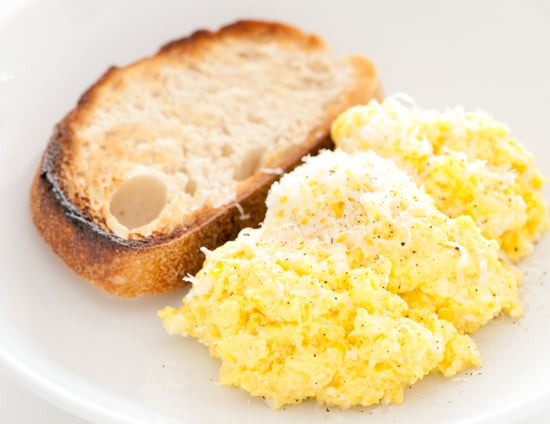 Make a sandwich. An easy and delicious way to switch up your standard scrambled egg routine is to construct a perfect sandwich. We're partial to our version of the hangover remedy: the Stanwich from the folks behind Blue Ribbon restaurants.
Stuff a pepper. I love this idea for bringing extra color to your plate! After putting together your favorite scramble, tuck it into one half of a sliced pepper, top with your favorite cheese, and bake it all together. If you're just too hungry, leave out the baking step and enjoy an extra crunch of a fresh, crisp pepper.
Wrap it up. You may think that breakfast burritos and wraps are only for restaurant dining, but they're easy to enjoy in the comfort of your home. Fold up some tasty scrambled eggs into a beautiful tortilla wrap, and you'll be prepared for true breakfast bliss. This breakfast burrito recipe is a great place to start, but feel free to experiment and toss in whatever you're working with in your fridge.
Keep reading for four more ways to wake up tired scrambled egg recipes.
Make a brunch pizza. Creating the perfect scramble can be a little time-consuming if you've got lots of mouths to feed. A breakfast tart is an easy and inventive way to bring new life to tired scrambled egg recipes — especially when it comes to entertaining.
Get some green. Who says greens don't work for breakfast? If you're always loading up your scramble with lots of cheese, bring some green to your plate with a heaping helping of fresh green veggies. Add asparagus, leeks, or a side of kale for the perfect touch of Spring veggie goodness to start your day off right.
Think inside the taco. If a breakfast burrito isn't up your alley, make a crew of breakfast tacos. Spoon your scrambled egg recipe into the shell, add your favorite toppings, and chow down. For a little twist, break up the shells, and you'll be in business for breakfast nachos. These sound like the perfect Mexican-inspired fare for the morning after Cinco de Mayo.
Put together a parfait. If you're looking to indulge over a long, lounging breakfast, I've got a decadent brunch idea for you. Parfaits aren't just for pretty yogurt creations. Layer tasty breakfast potatoes, scrambled eggs, and crumbled bacon or breakfast sausage in a pretty bowl or glass for an elegant presentation.
I can just taste all of this weekend's scrambled goodness now. What's your favorite way to make your scrambled eggs exciting? Add your idea in the comments below!
Source: Flickr User jules:stonesoup