Sea Bass With Rhubarb and Celery
A 3-Star Michelin Chef's Cannes-Approved Sea Bass Recipe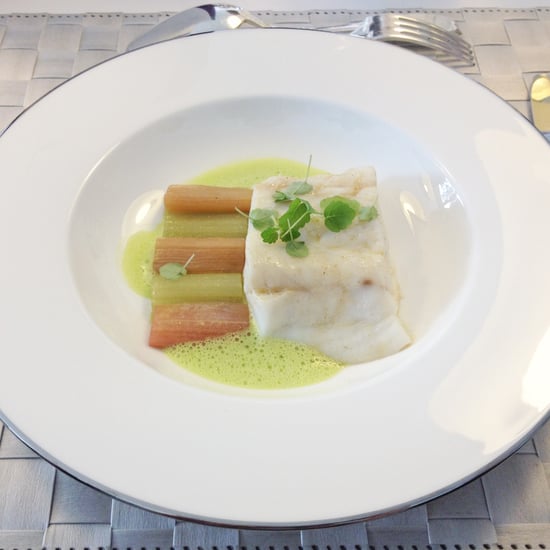 Did you ever think you could re-create a meal by a three-starred Michelin chef at home? Many of France native Anne-Sophie Pic's recipes are not for the home chef — unless one has some molecular gastronomy essentials handy — but her sea bass is comparatively straightforward, though admittedly not a fast and easy weeknight affair. Anne-Sophie left her usual station at her three-starred restaurant Maison Pic in the French town of Valence to take the helm at Electrolux's Chef's Kitchen at the Cannes Film Festival.
A table full of journalists was able to break from the cinema excitement at Cannes to sample Sophie's creations, which were also served at Wednesday night's opening gala. The party welcomed 650 guests for dinner, including members of this year's jury, like Nicole Kidman and head juror Steven Spielberg. With instructions on how to re-create the complex entrée, now Nicole and Steven (and you) can take a bit of elegant French fare home to the US.
Get the mouthwatering recipe.
Sea Bass With Rhubarb and Celery
From Anne-Sophie Pic for Electrolux
Notes
Cinnamon leaves are available online. If you don't own a juicer, blend chopped apples in a high-powered blender, then strain it through cheesecloth, bundling the solids together to extract as much juice as possible. Alternatively, look for green apple juice at a juice bar, or substitute apple juice plus the juice of half a lemon.
Ingredients
8 rhubarb stalks, cleaned and trimmed
Kosher salt
1/4 cup + 1 teaspoon granulated sugar, divided
7 ounces celery leaves
3/4 cup extra-virgin olive oil
3 1/2 ounces salted butter, at room temperature
4 1/2 ounces unsalted butter, at room temperature, divided
1 1/2 teaspoons of freshly ground green anise seed
8 celery stalks, cleaned and trimmed
3/4 cup vegetable broth
1 cup granny smith apple juice
6 leaves of cinnamon
1 9 to 10 pound fillet of white sea bass
1 small bunch of watercress
Directions
Peel away the fibrous outer parts of the rhubarb with a vegetable peeler. Toss the stalks with a large pinch of salt and 1 teaspoon sugar, add to a strainer set over a bowl, and let sit for 8 hours or overnight. Rinse the rhubarb and pat dry.
In a large saucepan or Dutch oven, bring 1/4 cup sugar and 3/4 cup water to a simmer, stirring occasionally, until all of the sugar has dissolved. Add the rhubarb to the syrup and cook, covered, until tender, about 5-10 minutes. Cut the rhubarb into 2-inch pieces, return to syrup, and set aside.
Bring a large pot of water to a boil, add the celery leaves and cook for about 30 seconds. Drain off the water and immediately transfer the leaves to a large bowl of ice water. Drain and squeeze well. Purée the blanched leaves and olive oil until smooth; set aside.
Combine the salted butter, 3 1/2 ounces of unsalted butter, and anise seed in the bowl of a stand mixer. Beat until the anise is evenly distributed throughout the butter; set aside.
Peel away the fibrous outer parts of the celery with a vegetable peeler. Bring the vegetable broth, 1 ounce unsalted butter, and 1/4 cup of the reserved celery oil to a simmer in a large saucepan or dutch oven. Add the celery and cook, covered, at a simmer until tender, about 5-10 minutes. Remove the celery, and allow to cool; cut the celery stalks into 2-inch pieces, return to juices, and set aside.
Bring the apple juice to a bare simmer in a small saucepan; take off of the heat. Combine 5 1/2 ounces of anise butter with the cinnamon leaves in a small mixing bowl; allow to sit for 2 minutes to infuse. Add the apple juice and 1/2 cup of the celery oil to the butter mixture; whisk to combine; season to taste with salt.
Preheat the oven to 425ºF. Generously season the sea bass with salt. Fit a large saucepan or Dutch oven with a flat steamer basket; fill the pot with 1 inch of water, and bring to a boil over high heat. Add the fish and steam for 2-3 minutes. Transfer the partially-cooked sea bass to a parchment-lined baking sheet and bake until cooked through, and flaky, about 10 minutes, check several minutes before then for doneness. Slice the sea bass into 10 equal portions.
Gently reheat the apple, celery, butter, and anise sauce, as well as the celery in juices, and rhubarb in syrup.
To plate, place a filet of sea bass slightly off center on each plate. Drizzle with sauce, and add three stalks of rhubarb and 3 stalks of celery next to the fish on each plate. Drizzle with celery oil and garnish with a few sprigs of watercress.
Serves 10.
Information
Category

Main Dishes, Fish

Cuisine

French