When a friend of mine was raving about a tuna salad she'd recently made, I was envisioning old-school mayonnaise and canned tuna. So I got excited when she sent me the recipe and I realized we were dealing with an entirely different type of tuna salad. This version dresses seared fresh tuna in lime, soy, and wasabi powder for a tangy Asian flavor, which gets a creamy boost from diced avocado. The best part? While this recipe sounds fancier and uses more gourmet ingredients than a classic tuna salad, it's just as easy to whip up. I made it one night after work, and the whole process took less than 20 minutes. I don't know what was more jaw-dropping: the simple preparation or the irresistible flavor. The chunky tuna is quite filling, so served over lettuce with some crackers, this is a highly satisfying weeknight dinner. To get the recipe,
.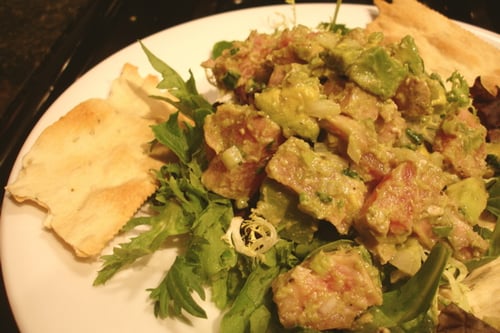 Ingredients
2 pounds very fresh tuna steak, cut 1-inch thick
4 tablespoons olive oil, plus extra for brushing
2 1/2 teaspoons kosher salt, plus extra for sprinkling
1/2 teaspoon coarsely ground black pepper, plus extra for sprinkling
2 limes, zest grated
1 teaspoon wasabi powder
6 tablespoons freshly squeezed lime juice (3 limes)
2 teaspoons soy sauce
10 dashes hot sauce (recommended: Tabasco)
1 to 2 ripe Hass avocados, medium diced
1/4 cup minced scallions, white and green parts (2 scallions)
1/4 cup red onion, small diced
Directions
Brush the tuna steaks with olive oil, and sprinkle with salt and pepper. Place the tuna steaks in a very hot sauté pan and cook for only 1 minute on each side. Set aside on a platter.
Meanwhile, in a small bowl, combine the olive oil, salt, pepper, lime zest, wasabi, lime juice, soy sauce, and hot sauce. Add the avocados to the vinaigrette.
Cut the tuna in chunks and place it in a large bowl. Add the scallions and red onion and mix well. Pour the vinaigrette mixture over the tuna and carefully mix.
Serves 4.
Information
Category

Salads, Seafood

Cuisine

Other Asian