Seared Scallops From Napa Valley Grille | Video
Pan-Searing Scallops Is Much Easier Than You Think
Scallops are one of those ingredients that seem intimidating but are actually shockingly simple to make. In this video, chef Taylor Boudreaux of Napa Valley Grille teaches us how easy it is to pan-sear scallops. The key to perfect doneness and plenty of flavor? Keeping a close watch and basting them in browned butter sauce. With a crisp, seared exterior and a soft, moist interior, this mild seafood dish pairs perfectly with a parsnip purée and a glass of white wine. Watch our video to learn how to make this elegant dish at home.
Pan-Seared Scallops With Parsnip Purée
From Taylor Boudreaux, Executive Chef, Napa Valley Grille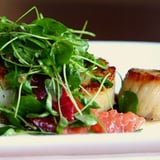 Ingredients
For the parsnip purée:
10 ounces parsnips, diced and peeled
1 cup heavy cream
Salt to taste
For the scallops:
4 U10 scallops
Salt and pepper
Olive oil
2 tablespoons butter
1 garlic clove, smashed
1 sprig fresh thyme
2 ounces parsnip puree
4 grapefruit segments
1/2 oz fresh mache or baby upland cress
Extra-virgin olive oil for drizzling
Directions
Make the parsnip purée: Simmer cream and parsnip until fork-tender on low heat. (Be careful not to scorch the cream.)
Purée in blender until smooth. Season with salt to taste.
Make the scallops: Generously season the scallops with salt and pepper on both sides.
Heat a sauté pan over high heat. Once hot, add just enough oil to coat the bottom of the pan. Add the scallops to the pan and reduce the heat to medium. Cook for 4 to 5 minutes, or until evenly caramelized on one side. (Turn scallops 90 degrees for roughly 90 seconds to develop an even crust.) Flip scallops over and add butter, garlic, and thyme to the pan. Cook until medium rare, about 2 more minutes, basting with the butter once it's melted and has begun to brown.
Plate with hot parsnip purée. Garnish with grapefruit and mache. Drizzle with extra-virgin olive oil. Serve hot.
Information
Category

Main Dishes, Shellfish

Yield

1 serving, with leftover parsnip purée