Seelbach Cocktail Recipe
Happy Hour: Seelbach Cocktail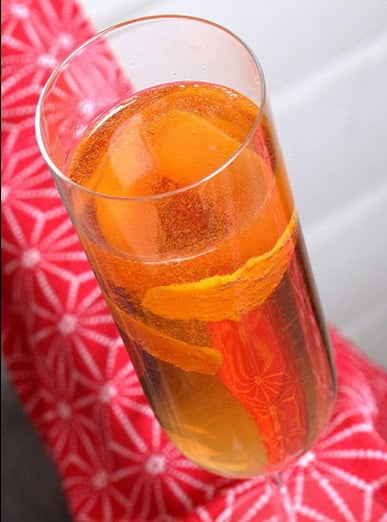 If you're hosting or attending an Oscars party, you'd be remiss not to offer some bubbly to wash down all your homemade movie snacks. My suggestion? Serve up something classic but new to most: the Seelbach Cocktail.
According to cocktailian A.J. Rathbun, this drink has its origins in Louisville, KY's pre-Prohibition years. It makes heavy use of bitters, incorporating two different types. That's not seen too often but results in a pleasant yet intricate sparkler that's ideal for slow sipping alongside awards show commentary.
Ingredients
2 ounces bourbon
1 ounce Cointreau
14 dashes Peychaud's Bitters
14 dashes Angostura Bitters
Chilled brut Champagne or sparkling wine
2 orange twists, for garnish
Directions
Divide the bourbon, Cointreau, and the two bitters between two flute glasses. Stir briefly.
Fill the flutes almost to the top with the chilled sparkling wine. Stir again, but don't get nutty about it. Garnish with the orange twists and serve.
Makes 2 drinks.
Information
Category

Drinks, Cocktails

Cuisine

North American