Selecting and Preparing Zucchini Squash
In Season: Zucchini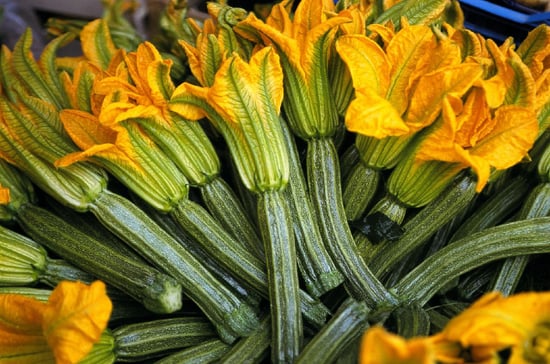 We've been giving a lot of attention to berries, tomatoes, and corn this Summer, but that doesn't mean we've overlooked other vegetables at their peak. Case in point: zucchini, the slender Summer vegetable that's in abundance between May and August. Find out what we do with it when you read more.
The zucchini (also known as a courgette) often gets mistaken for cucumber, but in fact it's a type of squash — Summer squash, to be exact. Unlike its Winter counterparts, this squash is fragile in both texture and flavor, with a thin, soft skin that's edible. Although the flowers are often removed, some farmers markets will sell courgettes with the blossoms still attached; these blooms can be edible, too. When selecting, choose firm, smaller, blemish-free zucchini, and store them in a plastic bag in the refrigerator for up to five days.
Zucchini has a very mild flavor that's a little sweet, a little bitter, and vegetal all at the same time. Its less-than-crunchy texture and high water content mean it shouldn't be cooked too long. Here are a few ways to prepare your produce:


How do you enjoy zucchini?
Source: Flickr User ljcybergal