Sesame Ginger Beets
Tip-to-Top Cookery: Sesame Roasted Beets and Beet Greens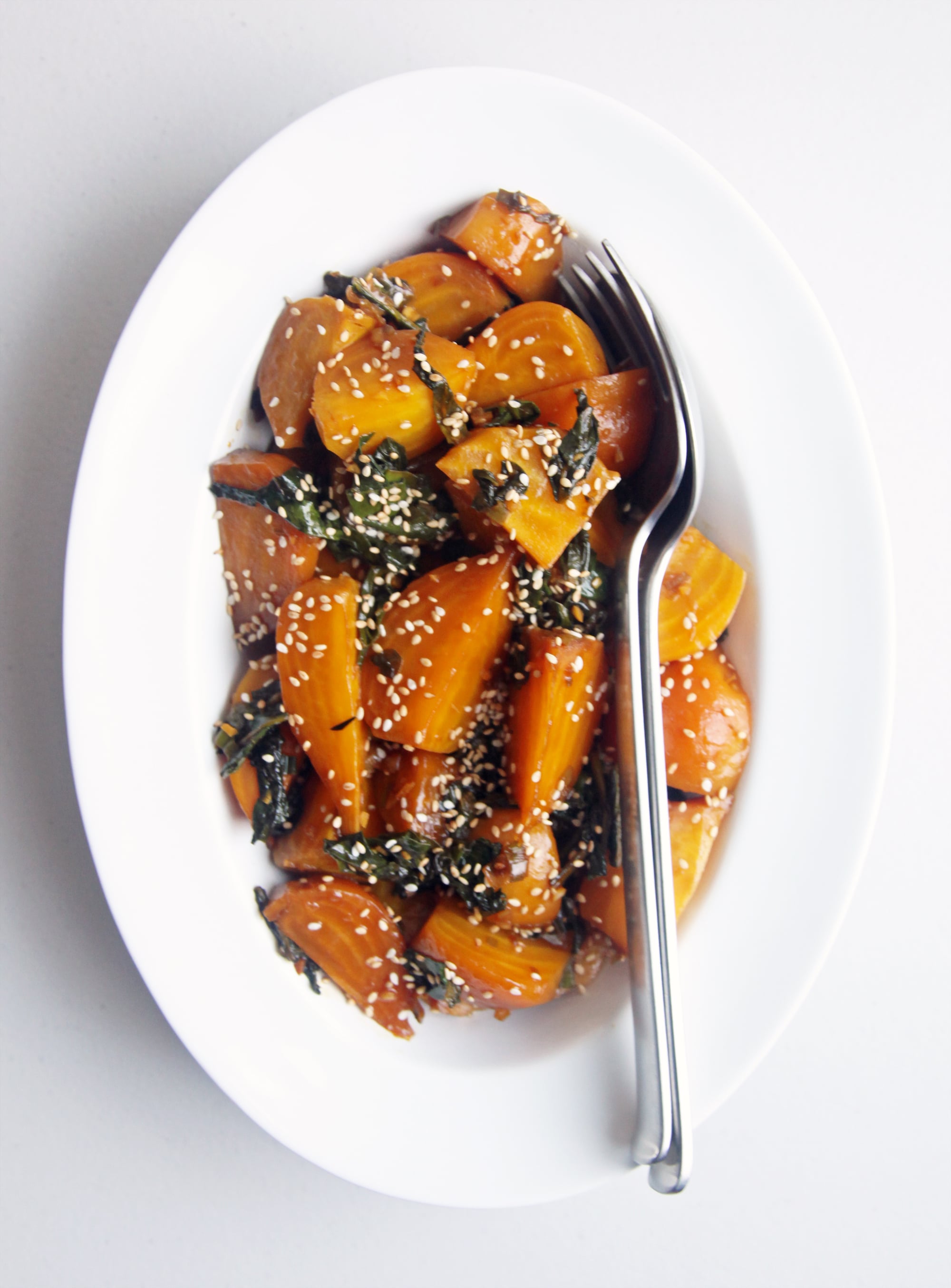 Like with nose-to-tail cookery, there's something about utilizing a vegetable from tip to top — or in this case from root to greens — that is immensely satisfying, and, at least in this case, utterly delectable. The next time you snap up a bundle of beets, think twice before discarding their earthy, leafy greens, and instead make the most of the humble beet's bounty by cooking up the greens alongside the sweet and tender roots. Not only do they provide flavor and textural contrast, but they're also a thrifty, eco-friendly addition.
Jazzed up with a splash of soy, a sprinkling of sesame seeds, and enticing Asian-inspired aromatics, this simple side is one you'll turn to with surprising frequency.
Notes
Can't find beets with intact greens? Reduce the sesame oil to 1 tablespoon and skip the step of cooking the greens, but proceed with the recipe otherwise. For a vegan version, substitute Bragg liquid aminos for the worcestershire sauce.
Ingredients
2 bunches of beets with greens
2 tablespoons toasted sesame oil
1 bunch scallions, thinly sliced
1 tablespoons fresh ginger, minced
2 garlic cloves, minced
2 tablespoons soy sauce
A few dashes worcestershire sauce
Toasted sesame seeds for garnish
Directions
Separate the beet roots from the greens. Roast the roots, then quarter or coarsely chop them.
Throughly rinse and coarsely chop the beet greens.
Add the sesame oil to a large skillet, and warm over medium heat. Add the scallions and cook till softened, stirring occasionally, about two minutes. Add the ginger and garlic, and cook for one minute. Add the greens, soy sauce, and worcestershire sauce, and cook for five to 10 minutes, or until the greens are tender. Add the chopped beets, toss to coat, and cook until they're warmed through.
Plate and garnish with toasted sesame seeds.
Information
Category

Vegetables, Side Dishes

Cuisine

North American

Yield

Serves 4