Sesame Noodles With Tofu Steaks Recipe
Fast & Easy Dinner: Sesame Noodles With Tofu Steaks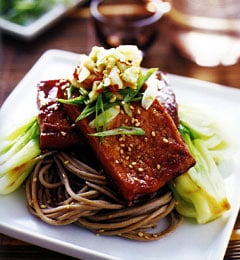 While reading the February issue of Bon Appétit, I was surprised to learn that buckwheat, the fruit seed used to make soba noodles, is in season. Since I didn't even realize that it was seasonal, I've decided to cook with it more. This quick and simple recipe turns soba noodles into a healthy vegetarian meal. The noodles are topped with tofu, bok choy, and green onions. This dish would also be delicious with mushrooms, onions, broccoli, or red pepper, so use whatever vegetables float your fancy. Get the recipe after the break.


Sesame Noodles With Tofu Steaks
From The Nest
Ingredients
1 1/2 pounds firm or extra-firm tofu, cut into 12 equal slices
7 tablespoons soy sauce
3 tablespoons mirin
3 tablespoons honey
1 teaspoon crushed red pepper flakes
2 tablespoons neutral oil, such as grapeseed, canola or sunflower
3/4 pound udon or soba noodles
2 tablespoons sesame seeds, toasted
2 tablespoons toasted sesame seed oil
1 pound baby bok choy, rinsed well but not trimmed
1 cup kimchee
1 scallion, thinly sliced
Directions
Fill a large pot three-quarters full with water and place over high heat. Bring to a boil, and keep the water at a boil while you prepare the tofu.
Lay the tofu slices on one half of a clean cloth towel. Fold the other half over the tofu and gently press down to extract any excess moisture.
Place 6 tablespoons of the soy sauce, the mirin, honey, and red pepper flakes in a small bowl and whisk to combine.
Warm a large nonstick skillet over high heat and add the neutral oil. Let it heat for 30 seconds. Add the tofu and fry until golden brown on the bottom, about 3 minutes. Flip the pieces over, pour on the soy mixture, and cook until the sauce has reduced and thickened, another 5 minutes.
Meanwhile, add the noodles to the boiling water and cook according to package instructions until done. Drain the noodles, and transfer them to a large bowl.
Add the sesame seeds, sesame oil, and remaining soy sauce, tossing the pasta to blend well. Return the pot to high heat and add the bok choy and 1 cup of water. Cover the pot and steam until the bok choy is crisp-tender and bright green, about 2 minutes. Serve the noodles topped with greens and tofu, sprinkled with scallions.
Serves 4.
Information
Category

Main Dishes, Tofu

Cuisine

Other Asian