Sex and the City Party Recipes and Menu Idea
Come Party With Me: Sex and the City 2 — Menu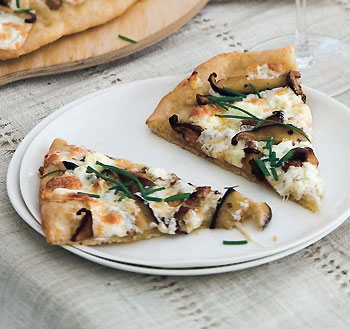 The premiere of Sex and the City 2 is little more than a week away, and I don't know about you, but I'm excited! So much so that I've decided to invite my girlfriends over for nibbles before we go see the film. Since a couple of friends are pescaterians and we'll probably splurge on snacks at the theater, I'm keeping the menu light, finger-friendly, and meat-free. To start, there's mushroom pizzas with goat cheese; they're so delicious nobody will be able to have just one slice.
Spicy tuna tartare is irresistible and elegant offered on waffle-cut potato chips, while classic Caesar salad turns into an instant appetizer when scooped into endive spears. These uncomplicated recipes are after the break, but if you prefer a menu of bites inspired by episodes of the show, you'll find them here. Otherwise, keep reading for the pizza, tartare, and salad recipes.
Shiitake and Chanterelle Pizzas With Goat Cheese
From Bon Appétit
Ingredients
Dough
2 1/2 cups unbleached all purpose flour or bread flour
1/2 cup white whole wheat flour or bread flour
3 tablespoons vital wheat gluten flour or bread flour
1 1/2 teaspoons coarse kosher salt
1 teaspoon sugar
1 cup plus 2 tablespoons warm water (105°F to 115°F)
1 1/2 teaspoons active dry yeast
3 1/2 tablespoons extra-virgin olive oil, divided
Additional unbleached all purpose flour (for kneading and shaping)
Topping
3 tablespoons extra-virgin olive oil plus additional for brushing
6 ounces fresh shiitake mushrooms, stemmed, thinly sliced
6 ounces fresh chanterelle mushrooms, thinly sliced
1 cup (packed) coarsely grated whole-milk mozzarella cheese
2/3 cup freshly grated Parmesan cheese
6 ounces chilled soft fresh goat cheese, coarsely crumbled
2 tablespoons sliced fresh chives
Directions
For dough: Combine all flours, coarse salt, and sugar in processor. Stir 1 cup plus 2 tablespoons warm water and yeast in 2-cup measuring cup. Let stand until yeast dissolves, about 5 minutes.
Stir in 3 tablespoons oil. With machine running, pour yeast-oil mixture through feed tube. Blend until ball of slightly sticky dough forms, about 1 minute.
Transfer dough to lightly floured surface; knead until smooth and elastic, adding more flour if very sticky, about 5 minutes.
Rub with 1/2 tablespoon oil; place in resealable 1-gallon plastic bag. Seal bag. Let dough rise at room temperature until doubled, about 2 hours.
Open bag; punch down dough in bag. Reseal. Chill overnight, punching down occasionally. Divide into thirds. DO AHEAD: Wrap pieces separately; freeze up to 1 week. Thaw 2 pieces in refrigerator before continuing. Let 2 wrapped pieces stand at room temperature 1 hour before shaping.
For topping: Heat 3 tablespoons oil in large skillet over medium-high heat. Add mushrooms; sprinkle with salt. Sauté until tender, about 5 minutes. Can be made 1 day ahead. Cool, cover, and chill.
Sprinkle 2 large sheets of parchment with flour. Roll out 2 dough pieces, each on separate parchment sheet, to 10-inch rounds, letting dough rest a few minutes if springing back.
Brush with oil; sprinkle each with 1/2 cup mozzarella and 1/3 cup Parmesan. Top with mushrooms, then dot with goat cheese. DO AHEAD: Slide pizzas on parchment onto baking sheets; cover with plastic. Chill up to 4 hours. Let stand at room temperature 30 minutes.
Position 1 rack in bottom third and 1 rack in top third of oven; place heavy baking sheet on each and preheat oven to 450°F for at least 30 minutes.
Slide 1 pizza on parchment onto each hot baking sheet. Bake 8 minutes; reverse sheets. Bake pizzas until crusts are brown at edges and on bottom, about 10 minutes. Sprinkle with chives.
Makes two 10-inch pizzas.
Information
Category

Appetizers, Finger Foods

Cuisine

Italian
Ingredients
1 tablespoon mayonnaise
3/4 teaspoon soy sauce
1/2 teaspoon Sriracha (Asian chili sauce)
8 ounces fresh tuna, cut into 1/4-inch dice
1 tablespoon thinly sliced fresh chives, plus 1-inch pieces for garnish
Gaufrettes or waffle-cut potato chips, for serving
Directions
In a medium bowl, combine the mayonnaise, soy sauce, and Sriracha.
Add tuna and chives, and gently combine with a fork. (Tartare can be refrigerated in an airtight container for up to 4 hours.)
Top each gaufrette with 1 tablespoon tuna tartare, and garnish with chives.
Serves 12.
Information
Category

Seafood, Appetizers

Cuisine

North American
Ingredients
2 cups 1/4-inch-diced white bread
1/4 cup extra-virgin olive oil
Kosher salt and freshly ground pepper
3 anchovy fillets, mashed
1 small garlic clove, smashed
1/4 cup mayonnaise
1/2 teaspoon finely grated lemon zest
2 tablespoons fresh lemon juice
1/4 cup freshly grated Parmigiano-Reggiano cheese, plus more for garnish
7 Belgian endives
Directions
Preheat the oven to 350°.
In a medium bowl, toss the bread with 2 tablespoons of the olive oil and season with salt and pepper. Spread the bread on a baking sheet and toast for about 10 minutes, stirring once, until golden and crisp.
Meanwhile, in the same bowl, using a spoon, mash the anchovies to a paste with the garlic and a pinch of salt. Whisk in the mayonnaise, lemon zest and lemon juice, then whisk in the remaining 2 tablespoons of olive oil and season with salt and pepper. Stir in the 1/4 cup of grated cheese.
Trim the endives and remove the 60 largest leaves from 6 of the heads. Stack the leaves and trim them to about 4 inches.
Thinly slice the remaining endive, along with the trimmings of the 6 other heads (you should have about 3 cups), and toss with the dressing.
Spoon the salad onto each spear and garnish with the croutons and grated cheese. Serve immediately.
Makes 5 dozen spears.
Information
Category

Appetizers, Finger Foods

Cuisine

North American