 It was a stunning weekend in San Francisco and the perfect weather for BBQ and a scrumptious salad. A dear friend — who happens to be a chef! — taught me how to make one of his favorite simple salads: a shaved celery salad.
If you've never shaved celery, don't get intimidated; it's easy. Using a regular potato peeler, remove and discard the outside stringiness. Then use the inner shavings as the base for the salad.
The crisp celery complements the creamy Gorgonzola, sweet dates, and crunchy, candied walnuts. All of the ingredients can be prepped far in advance and quickly assembled just before serving. To shave your own celery and get started on this elegant, yet effortless salad,
.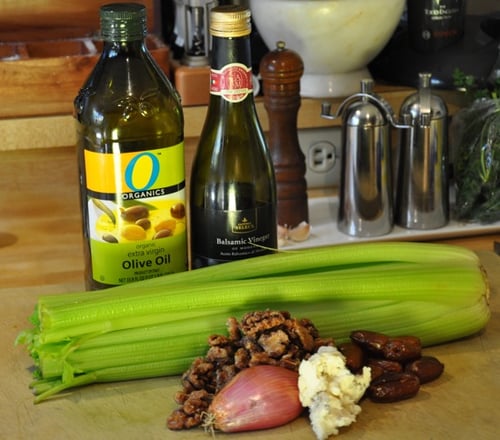 Shaved Celery Salad With Candied Walnuts, Gorzonola Cheese, Dates and Balasmic Vinaigrette
From Chef Taylor Quimby of Rubicon Estate Winery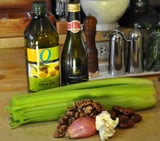 Ingredients
Candied Walnuts
1/2 cup water
1/2 cup sugar
1/2 cup walnuts
Balsamic Vinaigrette
1/4 cup Balsamic Vinegar
3/4 cup Olive Oil
2 tsp Dijon mustard
1 shallot, finely chopped
1/2 tsp salt
Salad
1 bunch of celery, cleaned, peeled and sliced
Leaves from inner celery heart
12-15 dates, pitted and julienned
8 ounces Gorgonzola Cheese, crumbled
Directions
For the candied walnuts, combine water and sugar in a saucepot. Bring to a simmer and cook for 5 minutes until the sugar has dissolved. Add the walnuts and poach for 8-10 minutes. Drain well. Place the poached walnuts on an oiled or silicon lined sheet pan in a single layer and bake for 15 - 20 minutes at 300°F until golden brown and crunchy.
For the dressing, add shallots, Dijon mustard and balsamic vinegar to bowl and gently whisk. Slowly whisk in oil olive and salt until combined. Set aside.
Shave the outer layer of the cleaned celery and chop at an angle into 1/4 inch strips.
Pick the leaves from the celery heart. Set aside.
Toss the chopped celery in the dressing and arrange on a plate. Toss the celery heart leaves in any remaining dressing to lightly coat.
Top with dates, candied walnuts, Gorgonzola cheese and celery heart leaves.
Serves 4.
Information
Category

Vegetables, Salads