Shaved Vegetable Salad
Sheer Elegance: Ribboned Vegetable Salad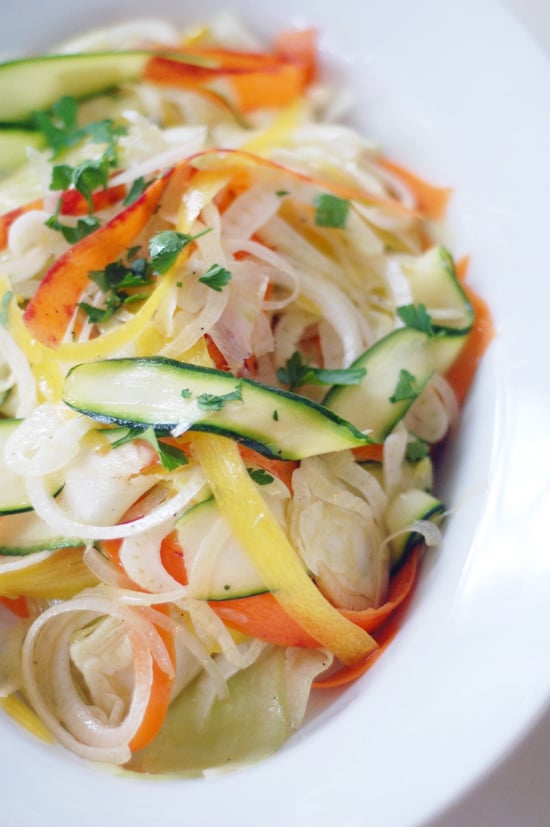 Although typically I don't veer far from my trusty green salad, there's something about Easter that makes me want to fill the table with all kinds of color. And when a gorgeous bunch of multicolored carrots appeared in my CSA box last week, I knew exactly how I wanted to enjoy them.
When vegetables are shaved (with a peeler or a mandoline), they take on an entirely new quality. Tossed in a your favorite vinaigrette, they're subtle, light, and elegant. It's a good idea to have a variety of salads to serve with different meals, and you can (and should) customize this recipe to your liking. While I stuck with cucumbers, multicolored carrots, zucchini, yellow squash, and onion, I could also see asparagus and beets adding great flavors and colors to the mix. You can also play off the ribbon concept and toss in a chiffonade of mint or basil.
For this recipe, keep on reading.
Ribboned Vegetable Salad
From Camilla Salem, YumSugar
Notes
I used the dressing from an asparagus and hard-boiled egg side dish for this salad. For a milder onion flavor, substitute half a shallot for the white onion.
Ingredients
1 cucumber, peeled
1 zucchini
1 yellow squash
3–4 multicolored carrots
1 fennel bulb
1/2 white onion, peeled
1/4 cup red wine vinaigrette
1 tablespoon fresh parsley, chopped
Directions
With a vegetable peeler or mandoline, shave the cucumber, zucchini, squash, and carrots down to the seeds, or as far as you can go. Toss them in a large bowl.
Thinly slice the onion and fennel — a mandoline works great for this — and toss this into the bowl of shaved vegetables.
Add the vinaigrette to the bowl and toss with your hands.
Place the vegetables in a serving dish. Toss and sprinkle with parsley before serving.
Serves four to six.
Information
Category

Vegetables, Salads