Shredded Brussels Sprouts and Kale Salad
Shredded Brussels Sprouts Salad Is Perfect For Fall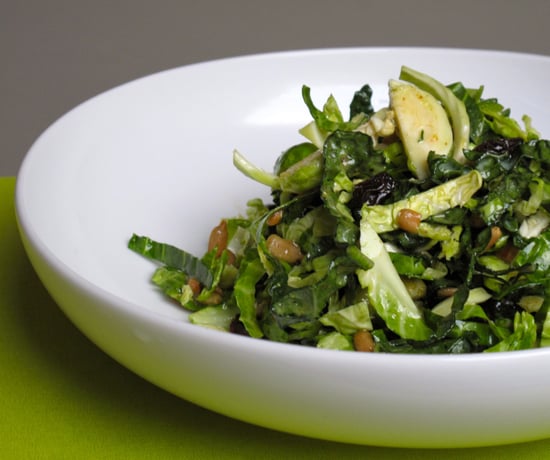 Generally speaking, I'm more of a salad gal in Summer and a braised greens lover once Fall begins to hit its stride. But recently, I've discovered the best way to reconcile the two: by utilizing dark, leafy brassicas in their raw form, massaging them by hand with a drizzle of Autumn-tinged maple vinaigrette until slightly wilted and tender. Case in point: this shredded brussels sprouts salad, which is the darling of my kitchen at this very moment. Adding some Lacinato kale really transforms this dish from a slaw to a salad, and it's got a pleasing bitterness that's offset so nicely with a tangy-sweet dressing. To add another layer of flavor and texture, I finish the whole thing with toasted sunflower seeds and raisins. Get excited for the season with the recipe.
Ingredients
1 tablespoon whole-grain mustard
3 tablespoons fresh lemon juice, from 1 to 2 lemons
Coarse salt
1 tablespoon plus 1 teaspoon pure maple syrup
2 tablespoons cold-pressed extra-virgin olive oil
8 ounces brussels sprouts, very thinly sliced (about 3 cups)
6 Lacinato kale leaves, stemmed and thinly sliced
1/3 cup raw hulled sunflower seeds, toasted
1/4 cup raisins or dried cranberries
Directions
Stir together mustard, lemon juice, 3/4 teaspoon salt, and tablespoon and teaspoon of maple syrup; whisk in oil until emulsified.
In a salad bowl, toss together brussels sprouts and kale. Add sunflower seeds, raisins or dried cranberries, and dressing; toss to coat. Serve immediately.
Serves 2 as a full-sized salad.
Information
Category

Greens , Salads

Cuisine

North American