Shrimp Fra Diavolo Recipe
Spicy Fra Diavolo Is Shrimply Delicious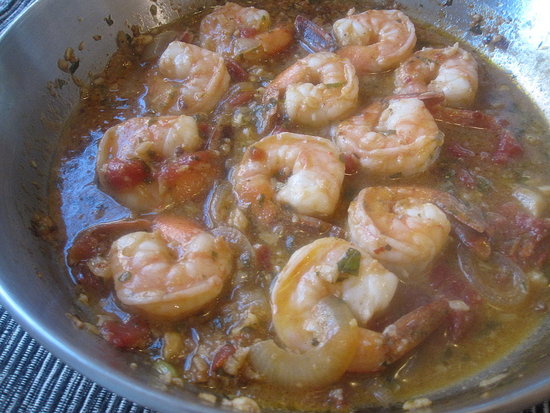 Lately I don't know what's gotten into me, but I simply can't get enough shrimp. I crave the succulent pink shellfish constantly. To feed a recent hunger for spicy, finger-licking-good shrimp, I made this amazing fra diavolo recipe.
Fra diavolo usually refers to a red-pepper-flaked tomato sauce with origins in the Italian-American kitchen. It can be used to season pasta or seafood. When making this scrumptious dish it's important to have your mise en place. The shrimp and sauce come together quickly, so there isn't much time to chop herbs in between the steps.
A wonderfully fragrant aroma fills the kitchen and the result is shrimp that is juicy, savory, and spicy. Serve it with something that will soak up the flavorful sauce: bread, pasta, rice, or as I did, couscous. I promise you won't be disappointed in the recipe — get it now.
Ingredients
1 pound large shrimp, peeled, deveined
1 teaspoon salt, plus additional as needed
1 teaspoon dried crushed red pepper flakes
3 tablespoons olive oil, plus 1 to 2 tablespoons
1 medium onion, sliced
1 (14 1/2-ounce) can diced tomatoes
1 cup dry white wine
3 garlic cloves, chopped
1/4 teaspoon dried oregano leaves
3 tablespoon chopped fresh Italian parsley leaves
3 tablespoon chopped fresh basil leaves
Directions
Toss the shrimp in a medium bowl with 1 teaspoon of salt and red pepper flakes.
Heat the 3 tablespoons oil in a heavy large skillet over medium-high heat. Add the shrimp and saute for about a minute, toss, and continue cooking until just cooked through, about 1 to 2 minutes.
Transfer the shrimp to a large plate; set aside.
Add the onion to the same skillet, adding 1 to 2 teaspoons of olive oil to the pan, if necessary, and saute until translucent, about 5 minutes.
Add the tomatoes with their juices, wine, garlic, and oregano. Simmer until the sauce thickens slightly, about 10 minutes.
Return the shrimp and any accumulated juices to the tomato mixture; toss to coat, and cook for about a minute so the flavors meld together.
Stir in the parsley and basil. Season with more salt, to taste, and serve.
Serves 4.
Information
Category

Main Dishes, Shellfish

Cuisine

Italian