Shrimp Spinach Salad Recipe
Monday's Leftovers: Spinach Salad With Shrimp and Mango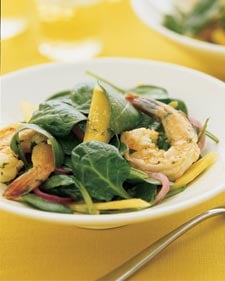 What do you do when you have spinach and shrimp left over from savory Greek shrimp skewers? The key to not tiring of repeat ingredients is to steer your meal in an entirely different culinary direction. Take a hint from ripe, in-season mangoes, and use them to build on a tropical theme. Sauté shrimp in lime juice, garlic, and cayenne for a little Latin spice, then coat them in a sunny-themed cilantro and mango purée to offset the heat. With lime-pickled onions adding some acid and bite, you've got a plate of brand-new, exciting flavors. Make this tonight when you keep reading.


Spinach Salad with Spiced Shrimp and Mango
Ingredients
1/2 medium red onion, very thinly sliced (about 1 cup)
1/2 cup plus 1 tablespoon fresh lime juice (from about 8 limes)
8 ounces baby spinach
1 large mango (about 1 pound)
10 ounces large shrimp, peeled and deveined, tails intact
1 teaspoon coarse salt
Freshly ground pepper, to taste
1/8 teaspoon cayenne pepper, or to taste
1 tablespoon olive oil
1 tablespoon minced garlic
3 tablespoons coarsely chopped fresh cilantro leaves
Directions
Combine onion and 1/4 cup plus 1 tablespoon lime juice. Cover, and let stand for at least 3 hours, stirring occasionally.
Place spinach in a large bowl. Peel mango. Cut along both sides of the pit to create two portions of mango. Slice each portion lengthwise into 1/8-inch-thick slices. Add to spinach.
Cut remaining mango from pit, and puree in a food processor or a blender with remaining 1/4 cup lime juice (you should have 1/2 cup puree).
Strain onion and add to spinach, reserving juice. Toss shrimp with reserved lime juice, salt, pepper, and cayenne.
Heat oil in a nonstick skillet over medium heat. Add garlic, and cook until soft, about 1 1/2 minutes. Add shrimp mixture, and cook until opaque, about 2 minutes. Add mango puree, toss, and heat through. Add cilantro. Remove from heat, and toss with spinach, onion, and sliced mango. Serve immediately.
Serves 4.
Information
Category

Salads, Seafood

Cuisine

North American