Simple Beignets Recipe
Let the Good Times Roll With Beignets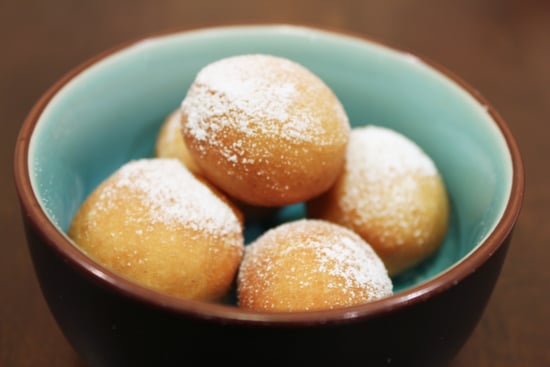 About two years ago, it seemed that every bistro and gastropub in San Francisco began offering some kind of fried dough on its dessert menu, and whether it was called a doughnut, beignet, fritter, or funnel cake, the formula was about the same: a few airy puffs deep-fried to perfection and served with the chef's choice of sweet accompaniments.
Turns out there's a reason for this dessert's popularity: it's incredibly simple, comforting, and delicious all at once. You may have memories of digging into funnel cakes at the county fair, munching doughnuts from the corner bodega, or plowing through beignets at Café du Monde, but a basic fried dough recipe speaks to our deeply rooted food nostalgia.
This recipe represents my first stab at beignets, but it certainly won't be my last. Despite the hour-and-a-half dough-rising wait time, the hands-on steps were easy and relatively low mess (for a fry project). And there's a topping for you, whether you're a traditionalist or out to try something new: sprinkle them with powdered sugar, smudge them with jam or apple butter, drizzle with chocolate or salted caramel sauce, or try something wholly different with a sprinkle of sugar and matcha green tea powder. Ready for the recipe? Just keep reading.
Notes
I didn't have time to make my own jam as the original recipe calls for, but these lemon-zest- and nutmeg-flecked beignets still threw a Mardi Gras-scale party in my mouth. Don't be afraid to get creative with the toppings!
Ingredients
1 1/4-ounce envelope active dry yeast
3/4 cup warm water, about 110ºF
1/4 cup granulated sugar
3/4 teaspoon salt
1 teaspoon finely grated lemon zest
1/2 teaspoon freshly grated nutmeg
1 large egg
1/2 cup whole milk
3 1/2 cups all-purpose flour, divided
2 tablespoons unsalted butter, softened
2 quarts canola oil, plus more to oil bowl
Confectioners' sugar, for dusting
Directions
Mix the yeast, water, and sugar in a mixer bowl fitted with a dough hook. Let stand until foamy, about 5 minutes. Add the salt, lemon zest, nutmeg, egg, milk, and 1 1/2 cups flour; mix on medium speed until combined. Add the butter; mix until incorporated. Add 1 3/4 cups flour, and mix until the dough comes together. Turn the dough onto a lightly floured surface. Knead in the remaining 1/4 cup flour by hand until the dough is smooth, about 5 minutes.
Place the dough in a lightly oiled bowl, cover loosely with plastic wrap, and let stand in a warm, draft-free spot until doubled in size, about one hour. Remove the dough from the bowl and punch down. Roll out the dough on a lightly floured surface to 1/2-inch thickness. Cut out circles with a 1-inch round cutter; place on a floured baking sheet. Let rise in a warm, draft-free spot for 30 minutes.
Heat the oil in a medium pot or deep fryer until it registers 350ºF on a deep-fry thermometer. Fry the beignets in batches, rolling them around constantly with a slotted spoon, until golden brown all over, 1 to 2 minutes. Transfer the beignets with the slotted spoon to a platter lined with paper towels, and dust with confectioners' sugar.
Information
Category

Other, Desserts

Cuisine

Cajun/Creole

Yield

5 dozen