Simple Pasta With Asparagus and English Peas
It's Time to Spring For a Seasonal Pasta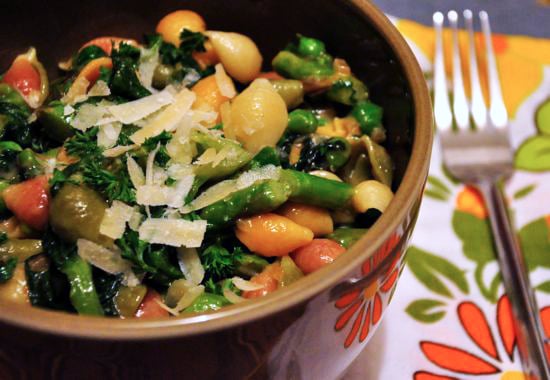 Spring is everywhere in California, and to my delight it has started to make an appearance at my local grocer. Asparagus and peas popped up this week and looked too good to pass up. Luckily, Epicurious had the perfect pasta recipe that showcases both of these tender veggies.
This dish is easy to prep in advance and when your guests are ready to eat, throw it together; in just 10 minutes it will be hot and ready! My friends described it as a springy, healthy, and adult mac and cheese that definitely does not disappoint. If you want to start celebrating the season's veggies, keep reading for the recipe.
Pasta with Peas, Asparagus, and Butter Lettuce
Adapted from Bon Appétit
Ingredients
1 tablespoon butter
1 tablespoons extra-virgin olive oil plus additional for drizzling
1/4 pound spring onions or green onions (dark green parts discarded); white parts cut into 1/4-inch-thick slices, pale green parts cut into 1/2-inch-thick slices
2 tablespoons minced shallot
Coarse kosher salt
1/4 cup dry white wine
1/4 cup low-salt chicken broth
3/4 pounds asparagus, cut crosswise into 3/4-inch pieces
1 cups shelled fresh peas (from about 1 pounds peas in pods)
1/2 pound campanelle (trumpet-shaped pasta) or medium (about 1-inch) shell-shaped pasta
1 head of butter lettuce or Boston lettuce (about 6 ounces), cored, leaves cut into 3/4-inch-wide slices
1/2 cup finely grated Parmesan cheese plus additional for sprinkling
1/4 cup chopped fresh Italian parsley
Directions
Melt butter with 2 tablespoons oil in heavy large skillet over medium heat. Add onions and shallot. Sprinkle with coarse salt and pepper. Sauté until tender (do not brown), about 8 minutes. Add wine; increase heat to medium-high and simmer until liquid is reduced to glaze, about 3 minutes. Add broth and bring to simmer; set aside.
Cook asparagus in large pot of boiling salted water until just tender, 2 to 4 minutes, depending on thickness of asparagus. Using skimmer or slotted spoon, transfer to large bowl of ice water.
Return water to boil. Add peas and cook until just tender, about 2 minutes. Using skimmer, transfer to bowl with asparagus. Drain vegetables.
Return water in pot to boil. Cook pasta until tender but still firm to bite, stirring occasionally. Drain, reserving 1 cup pasta cooking liquid.
Meanwhile, reheat onion mixture. Add lettuce and stir just until wilted, about 1 minute. Add drained asparagus and peas; stir until heated through.
Add pasta, 1/2 cup Parmesan cheese, and parsley to skillet with vegetables; toss, adding reserved pasta cooking liquid by 1/4 cupfuls if dry. Season with salt and pepper.
Transfer pasta to large shallow bowl. Drizzle with olive oil. Serve, passing more cheese alongside.
Makes 2-3 hearty servings.
Information
Category

Pasta, Main Dishes

Cuisine

North American
Love to be in the kitchen? Check out the YumSugar Community where you can share your recipes and food photography with our community!