Simple Quince Paste Recipe
Edible Gifts: Quince Paste



Surprise your friends this holiday with the unique edible gift of quince paste. Quince is a fruit closely related to apples and pears, but it's most commonly cooked into a jam, paste, or pudding. In Spain, quince paste (dulce de membrillo) is served with manchego. After tasting this sweet and salty combination, the paste has become an essential on my cheese plate.

Since quince season ends in December, it's the perfect time to make this gift for cheese-lovers. Most recipes call for drying the paste in the oven for 15 hours, but luckily, I found one on Epicurious that simplifies the process. With a little experimenting, I was able to adapt their recipe to create a delightful quince paste with a consistency somewhere between jelly and gumdrops.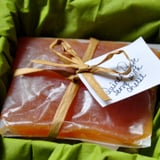 Ingredients
4 medium quinces (about 2 pounds total)
1/4 to 1/2 cup water
2 to 3 cups sugar
Directions
Preheat oven to 350°F and lightly oil a 1-quart terrine and line with buttered parchment.
Scrub quinces and pat dry. In a small roasting pan bake quinces, covered with foil, in middle of oven until tender, about 2 hours, and transfer pan to a rack.
When quinces are cool enough to handle, with a sharp knife peel, quarter, and core them.
In a food processor puree pulp with 1/4 cup water until smooth (if mixture is too thick, add remaining 1/4 cup water a little at a time, as needed). Force puree through a large fine sieve or cheese cloth into a liquid cup measure and measure amount of puree.
Transfer puree to a 3-quart heavy saucepan and add an equivalent amount of sugar.
Preheat the oven to 200. Cook quince puree over moderate heat, stirring constantly, until it is thickened and begins to pull away from side of pan, about 25 minutes.
Pour puree into terrine, smoothing top with an offset spatula. Place in the oven for 30-45 minutes to further dry the quince paste. Cool and chill puree, loosely covered with plastic wrap, until set, about 4 hours
Run a thin knife around sides of terrine and invert quince paste onto a platter. (Quince paste keeps, wrapped well in wax paper and then plastic wrap and chilled, 3 months.)
Slice paste and serve with cheese and crackers.
Makes about 2 1/4 pounds quince paste.
Information
Category

Appetizers, Breads/Crackers

Cuisine

North American