Simple Sesame Chicken Wing Recipe
Pack Your Picnic With Sticky Sesame Chicken Wings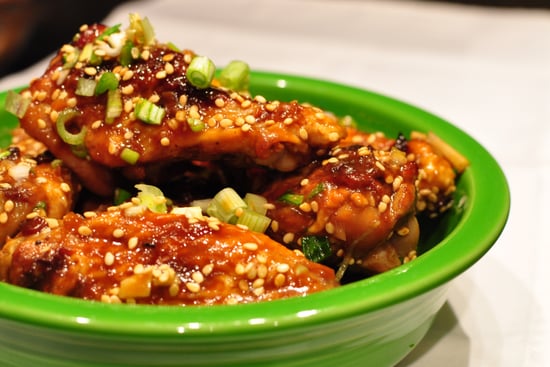 During the Summer, there is nothing better than an afternoon picnic at a local park. I am always on the lookout for something to replace boring picnic sandwiches. These sesame chicken wings are delicious both warm and at room temperature, making them a perfect choice to pack in your cooler.
I cooked the chicken in the oven, but you could easily use a barbecue. Definitely set aside some of the scrumptious sauce and once the chicken is cooked, coat them in a little extra! The addition of toasted sesame seeds and chopped scallions provides crunch and depth of flavor. Have your napkins ready for these tasty chicken wings and get the recipe by reading more.
Sticky Sesame Chicken Wings
Adapted from Gourmet
Ingredients
1 large garlic clove
3/4 teaspoon salt
3 tablespoons soy sauce
3 tablespoons hoisin sauce
3 tablespoons mild honey
1 1/2 teaspoon Asian sesame oil
Pinch of cayenne
2 lb chicken wingettes or chicken wings
2 tablespoons sesame seeds, lightly toasted
1 scallion (green part only), finely chopped
Directions
Put oven rack in upper third of oven and preheat oven to 425°F. Line a large shallow baking pan (17 by 12 inches) with foil and lightly oil foil.
Mince garlic and mash to a paste with salt using a large heavy knife. Transfer garlic paste to a large bowl and stir in soy sauce, hoisin, honey, oil, and cayenne. Set aside a quarter of the sauce, to coat the wings once cooked. Use the rest of the sauce and add wingettes, stirring to coat.
Arrange wingettes in 1 layer in baking pan and roast, turning over once, until cooked through, about 35 minutes.
Transfer wingettes to a large serving bowl and toss with sesame seeds and scallion.
Serves 4.
Information
Category

Poultry, Main Dishes

Cuisine

Other Asian