Slow-Cooker Cuban Chicken Recipe
Simple Supper: Slow-Cooker Cuban Chicken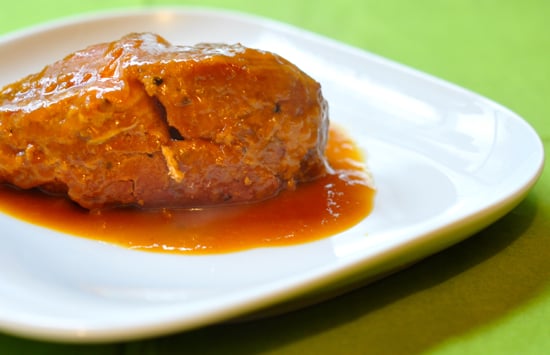 The majority of you love your slow cookers, but many commented that you don't like a bunch of preparation beforehand. While I understand the ease of throwing everything into a pot and letting it cook, just 20 minutes of effort can take a dish from just OK to truly scrumptious. That is the case for this slow-cooker Cuban chicken; it requires browning, but it greatly enhances the dish.
The sauce is full of complex flavors, including fresh bay leaf, sweet citrus, and caramelized onions and garlic. The chicken falls off the bone and is perfect served over brown rice, with a simple salad. It would also be divine stuffed into a taco topped with guac and sour cream! If you want to take your slow cooking to the next level, keep reading for the recipe.
Slow-Cooker Cuban Chicken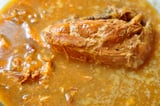 Ingredients
1 whole chicken (about 4 pounds)
3 tablespoons olive oil
8 cloves garlic, coarsely chopped
3/4 cup orange juice
3/4 cup lime juice (about 5 limes)
1 fresh bay leaf
1 yellow onion, thinly sliced
Directions
Brown the chicken. Season the chicken pieces with salt and pepper. In a large frying pan over medium-high heat, warm the oil. Add the chicken pieces in batches if necessary, skin side down, and cook until golden brown on the bottom, about 7 minutes. Turn the chicken and cook the second side until lightly browned, about 3 minutes. Transfer all browned chicken to slow cooker.
Deglaze the pan. Pour off all but about 1 tablespoon of fat from the frying pan, and return the pan to medium-high heat. Add the onions, and sauté until just barely golden brown. Add garlic to the onions, and sauté for a couple more minutes, until the onions are golden and the garlic is fragrant.
Pour in orange and lime juices. Raise the heat to high, bring to a boil, and deglaze the pan, stirring to scrape up the browned bits on the pan bottom. Pour the contents of the pan over the chicken.
Cook the chicken. Add the bay leaf, and sprinkle with 1 teaspoon salt. Cover and cook on high heat setting for 2 1/2 hours or low heat setting for 5 hours. Remove and discard the bay leaf. Transfer the chicken to a serving dish. Season the sauce to taste with salt and a generous amount of pepper. Spoon the onions and sauce over the chicken.
Information
Category

Poultry, Main Dishes

Cuisine

North American

Yield

6 to 8 servings
Check out other delicious recipes in our Slow Cooker Group! Post your recipe, and we might feature it here on POPSUGAR Food!