Slow Cooker Recipe For Braised Chicken With Summer Tomatoes
Braised Chicken With Tomatoes: Perfect For Between Seasons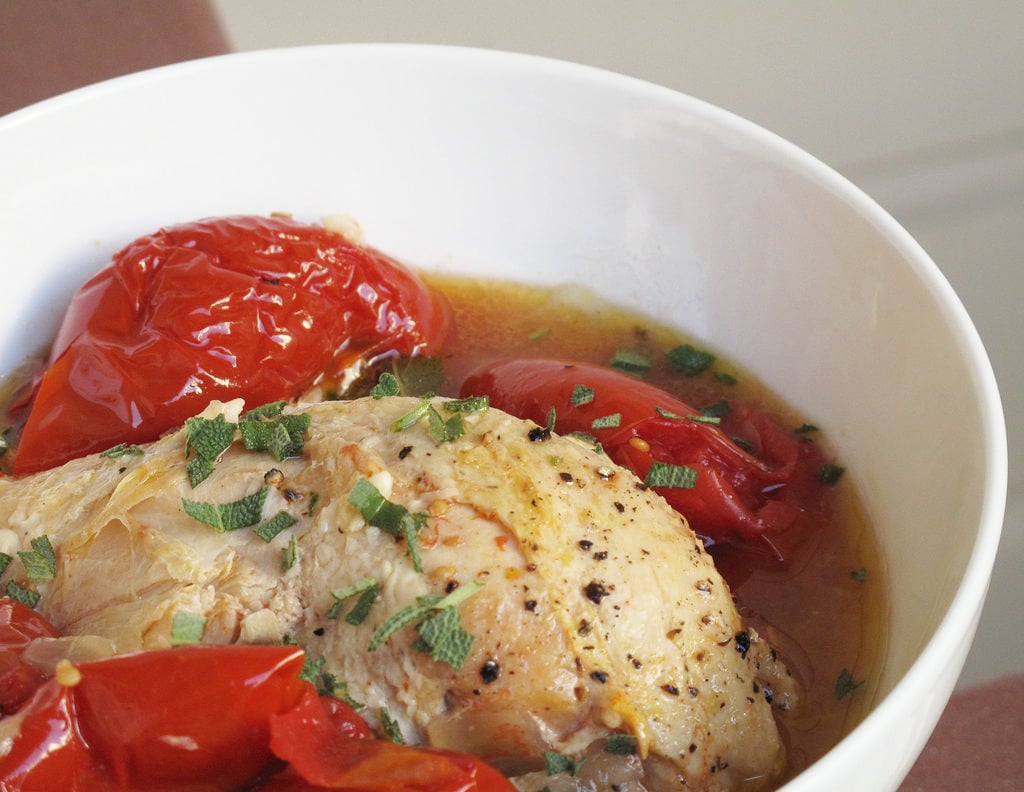 This month, I've shifted my focus from Summer cookout food to something a little more soothing, but amidst a San Francisco Indian Summer, I'm not quite ready to plunge into full-blown Fall fare just yet. So in addition to treasuring those timeless staples, I've also looked for recipes that fall (pardon the pun) right in between those two seasons. One such gem is this slow-cooked dish of chicken with fresh tomatoes.
It incorporates the sunny flavor of Early Girl tomatoes with the reassuring tenderness of chicken braised in its own stock. Lighten it up with skinless chicken breast, swap out the sage for tarragon or basil, or use cherry or heirloom tomatoes instead. The result is a sumptuous main meal that's fantastic over grits, polenta, or mashed potatoes. Savor the in-between moment when you keep reading.
Ingredients
1 chicken, about 4 1/2 lb., cut into 8 pieces, back and wings discarded
Kosher salt and freshly ground pepper, to taste
2 Tbs. plus 1/3 cup extra-virgin olive oil
1 large yellow onion, chopped
10 garlic cloves, peeled
1/2 cup dry white wine
1-1/2 cups chicken broth
4 fresh sage sprigs, plus 2 Tbs. finely chopped sage
3-1/2 lb. Early Girl tomatoes, cored
Directions
Season the chicken with salt and pepper. In the stovetop-safe insert of a slow cooker over medium-high heat, warm the 2 Tbs. olive oil. Add the chicken, skin side down, and brown, turning once, 7 to 8 minutes total. Transfer to a plate.
Add the onion to the insert, reduce the heat to medium and cook, stirring occasionally, until softened and golden, about 8 minutes. Add the garlic and cook, stirring occasionally, until just golden, about 5 minutes. Add the wine and simmer for 1 minute. Add the 1/3 cup olive oil and the broth, and season with salt and pepper.
Place the chicken, skin side up, in the insert and tuck the sage sprigs in between. Place the tomatoes on top and bring the mixture to a simmer. Place the insert in the slow-cooker base, cover and cook on low until the meat nearly falls off the bone, about 3 hours.
Using a spoon, transfer the chicken, tomatoes, some of onion-garlic mixture and braising juices to a platter. Garnish with the chopped sage and serve immediately.
Serves 6.
Information
Category

Poultry, Main Dishes

Cuisine

North American