Slow Cooker Recipe for Chicken Minestrone Soup With Pesto
Sunday Slow Cooker: Chicken Minestrone With Pesto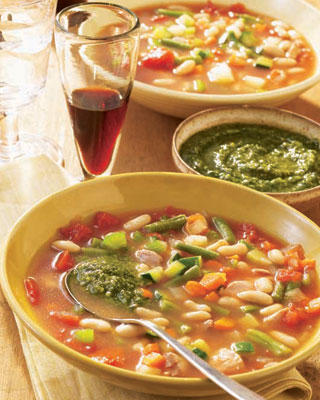 With the biggest holidays over and done with, I'm beginning the year with a focus on comfortable, no-frills cooking.
My secret weapon? An inexpensive, ever-resourceful crockpot, which works its magic by cooking vegetables and protein low and slow until they've become tender, and the flavors have married together.
As usual, I've had another overindulgent holiday, so I'm starting off this week with a light, brothy Italian minestrone, studded with chicken and perfumed by pesto. Interested in the healthy recipe? Then read more.
Ingredients
1 can (28 oz) diced tomatoes in juice, undrained
4 cups chicken broth
1 lb boneless, skinless chicken thighs, cut in 1-in. chunks
1 medium baking potato, peeled and diced
1/2 cup each chopped onion, carrot and celery
1/4 tsp pepper
1 can (16 oz) cannellini beans, rinsed
1 medium zucchini (about 6 oz), diced
1 cup frozen cut green beans, thawed
1/3 cup prepared refrigerated basil pesto
Directions
Mix all ingredients except the cannellini beans, zucchini, green beans and basil pesto in a 4-qt or larger slow-cooker.
2. Cover and cook on low 7 to 9 hours until chicken is cooked through and vegetables are tender.
Stir in cannellini beans, zucchini and green beans. Cover and cook on high 15 minutes, or until zucchini is tender.
Spoon into bowls; top servings with pesto.
Serves 6.
Nutritional information per serving: Calories 289, Fat 9g, Saturated Fat 2g, Cholesterol 76mg, Sodium 827mg, Carbohydrates 27g, Dietary Fiber 6g, Protein 25g
Information
Category

Other, Soups/Stews

Cuisine

North American