Slow Cooker Recipe for Golumpki Stuffed Cabbage Rolls
Reader Recipe: Stuffed Cabbage Rolls
According to TeamSugar member mellie_608, it's debatable whether these golumpki are Swedish or Polish, but what can be agreed upon is that these stuffed cabbage rolls — seasoned with tomatoes, lemon, Worcestershire sauce, and a tad of brown sugar for sweetness — are incredibly juicy and tender.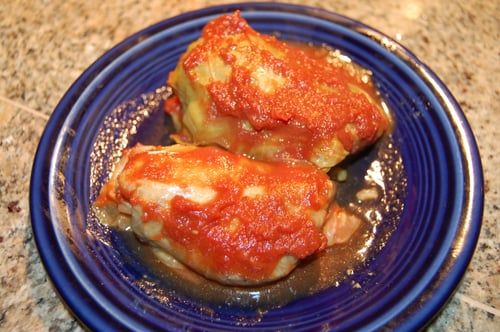 Golumpki - Stuffed Cabbage Rolls
Fix it and Forget it - Feasting with your Slow Cooker Page 122, "Swedish Cabbage Rolls"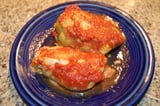 Ingredients
12 large cabbage leaves
1 egg, beaten
1/4 cup milk
1/4 cup finely chopped onion
1 tsp. salt
1/4 tsp. pepper
1 lb. ground beef, browned and drained
1 cup cooked rice
8-oz. can tomato sauce
1 Tbsp. brown sugar
1 Tbsp. lemon juice
1 tsp. Worcestershire sauce
Directions
Immerse cabbage leaves in boiling water for about 3 minutes or until limp. Drain.
Combine egg, milk, onions, salt, pepper, beef and rice. Place about 1/4 cup mixture into the center of each leaf. Fold in the sides and roll ends over the meat. Place in slow cooker.
Combine tomato sauce, brown sugar, lemon juice, and Worcestershire sauce. Pour over the cabbage rolls.
*If you like more sauce I would recommend doubling the sauce, which is what I did this time and it turned out great.
Cover. Cook on low 6-8 hours.
Serves 6.
Information
Category

Main Dishes, Beef

Cuisine

Russian/Eastern European