Slow Cooker Recipe For Meatless Chili
Sunday Slow Cooker: Marvelous Meatless Chili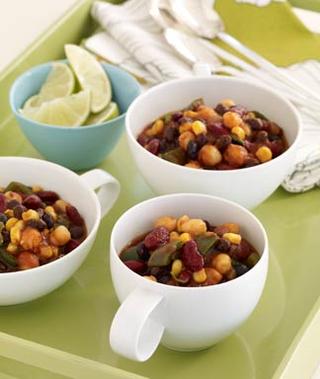 I'm not going vegan this month or throwing a vegan dinner like PartySugar is, but lately I have been trying to eat less meat and dairy in an effort to lighten both my cholesterol count and carbon footprint.
For tonight's dinner, I went in search of a no-fuss vegetarian slow cooker recipe that would be low in fat, but high in protein and fiber. This chili fits the bill on all accounts, and can easily become vegan, too, without all the dairy toppings. Interested? Then get the recipe.


Ingredients
1 slow-cooker liner
1 small sweet onion, finely chopped
2 medium poblano peppers, chopped
1 Tbsp minced garlic (3 cloves)
1 can (15 oz) red kidney beans, rinsed
1 can (15 oz) black beans, rinsed
1 can (15 oz) chickpeas, rinsed
1 cup frozen corn niblets
1 jar (16 oz) smooth chipotle or roja salsa, such as Old El Paso
1 can (8 oz) tomato sauce
3⁄4 cup water
2 Tbsp cocoa chili spice blend (such as McCormick) or unsweetened cocoa
2 Tbsp salt-free chili powder
2 tsp ground cumin
1⁄3 cup chopped cilantro
Serve with: sour cream, shredded cheese, toasted pumpkin seeds
Directions
Line a 3-qt or larger slow-cooker with liner. Mix all ingredients except cilantro in slow-cooker. Cover and cook on low 6 to 8 hours until vegetables are tender and flavors are blended.
Stir in cilantro. Top with sour cream, cheese, and/or toasted pumpkin seeds.
Serves 6.

Nutritional information per serving: Calories 323, Total fat 3g, Saturated fat N/A, Cholesterol N/A, Sodium 942mg, Total carbohydrates 62g, Dietary fiber 18g, Protein 16g
Information
Category

Main Dishes, Beans