Slow Cooker Recipe For Spicy Sloppy Joes
Sunday Slow Cooker: Spicy Beef Sloppy Joes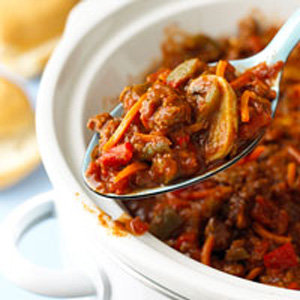 If your schedule is full of social engagements this weekend, a little bit of working ahead goes a long way. Brown some ground beef in the morning, place it in a slow cooker, and return home later tonight to tune into the Golden Globes with a fiery pot of sloppy joe filling ready to eat for dinner.
This recipe isn't just low maintenance; it's also adaptable. Serve the mixture atop a toasted kaiser roll, a baked potato, or if you're watching your carbs, in a low-carb wrap or a Southwestern-inspired salad. For a meal that's good any way you serve it, keep reading.
Ingredients
2 lb. lean ground beef
2 16-oz. jars salsa
3 cups sliced fresh mushrooms (8 oz.)
1-1/2 cups shredded carrots (3 medium)
1-1/2 cups finely chopped red and/or green sweet pepper
1/3 cup tomato paste
2 tsp. dried basil, crushed
1 tsp. dried oregano, crushed
1/2 tsp. salt
1/4 tsp. cayenne pepper
4 cloves garlic, minced
6 kaiser rolls, split and toasted
Directions
In a skillet cook beef over medium heat until brown, stirring to break meat in pieces. Drain fat. In 5- or 6-qt. slow cooker stir together beef and remaining ingredients (except rolls).
Cover; cook on high-heat setting 4 to 5 hours or low-heat setting 8 to 10 hours.
Reserve 5 cups of the meat mixture for Spicy Beef Taco Salad; cover tightly, refrigerate. Serve remaining meat mixture on toasted kaiser rolls.
Makes 8-10 servings.

Nutritional information per serving: Calories 294, Total Fat (g) 8, Saturated Fat (g) 3, Monounsaturated Fat (g) 3, Polyunsaturated Fat (g) 1, Cholesterol (mg) 36, Sodium (mg) 756, Carbohydrate (g) 37, Total Sugar (g) 5, Fiber (g) 3, Protein (g) 18, Vitamin A (DV%) 0, Vitamin C (DV%) 42, Calcium (DV%) 8, Iron (DV%) 20
Information
Category

Main Dishes, Beef

Cuisine

North American