Slow Cooker Recipe For Split Pea Soup With Chorizo
Sunday Slow Cooker: Split Pea Soup With Chorizo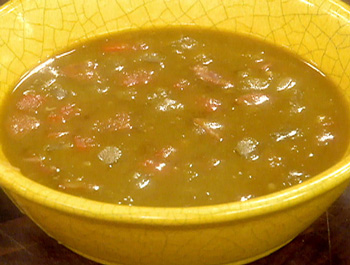 My absolute favorite slow cooker recipe is actually a soup. A rich, full-bodied split pea soup. Although pea soup can also be made meatless, it's classically prepared with diced ham or a ham hock. Tonight, I can't wait to experiment with a contemporary take on split pea, which uses a different pig product, chorizo. Since the recipe calls for a dice, buy Spanish chorizo.
It's cured and smoked, making it easier to slice, as opposed to the often-uncooked Mexican version. Try something new when you read more.
Ingredients
1 pound green split peas
10 cups reduced-sodium chicken broth
1/2 pound diced chorizo or andouille sausage
1 1/2 cups diced carrot
1 cup diced shallot
1 cup diced celery
2 cloves garlic, minced
2 bay leaves
Salt and freshly ground black pepper
Directions
Combine all ingredients in a slow cooker. Cover and cook on low for 6 to 8 hours or on high for 4 to 5 hours. Remove bay leaves and season with salt and black pepper before serving.
Serves 4.

Nutritional information per serving: Calories 294, Total Fat 8g, Saturated Fat 3g, Monounsaturated Fat 3g, Polyunsaturated Fat 1g, Cholesterol 36mg, Sodium 756mg, Carbohydrate 37g, Total Sugar 5g, Fiber 3g, Protein 18g
Information
Category

Other, Soups/Stews

Cuisine

North American